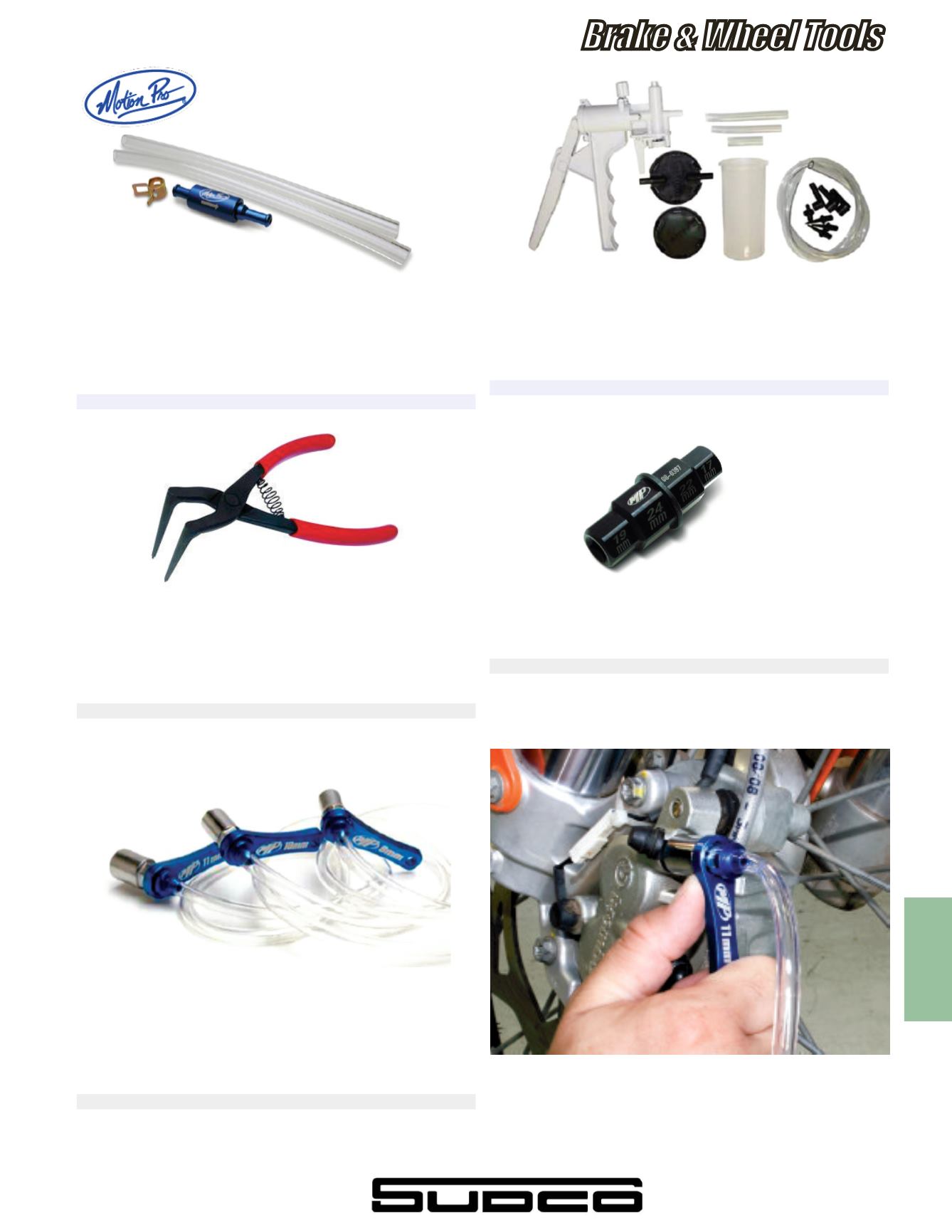 Mityvac Brake Bleeding Kit
Flushes out brake fluid quickly and cleanly into reservoir container. Kit
includes a repairable pump, reservoir bottle with transfer and storage
lids, bleeding adapters, plastic tubing and complete instructions.
Motion Pro Hydraulic Brake Bleeder
Makes bleeding your brakes a one-person job. The unique check
valve allows brake fluid and air to escape while preventing air from
re-entering the system. Instructions and hose included.
Made in the U.S.A.
Order No.
850-060
Order No.
950-452
Motion Pro Master Cylinder Snap-Ring Pliers
Allows removal of internal snap rings used in hydraulic master cylinders
Replaces Honda# 07914-SA50001, can be used to remove and replace
small to medium internal snap rings up to 50mm deep, including those
used for transmission gear locating, bearing retention, and oil seal
retention, applicable to some fork seal retaining rings.
Order No.
950-775
Motion Pro Chrome-Moly Hex Axle Tool
Heavy-duty heat treated 4130 chrome-molly construction, 3/8" square
drive drivers are rated for a maximum of 150 ft.- lbs.
Order No.
950-758
Motion Pro Mini Brake Bleeder
NEW
Mini Brake Bleeders combine wrench and bleeder valve into one
convenient tool. Internal check valve and seal for easy bleeding.
Simple to use design makes bleeding job faster. Three nipple
sizes available.
Mini Brake Bleeder 8mm
950-453
Mini Brake Bleeder 10mm
950-454
Mini Brake Bleeder 11mm
950-455
Brake & Wheel Tools
V
intage
i
ntake
e
ngine
S
uSpenSion
C
ontrol
e
leCtriCal
C
hemiCal
t
oolS
W
aterCraft
503
WEB:
WWW.SUDCO.COM
E-MAIL:
SUDCO@SUDCO.COM