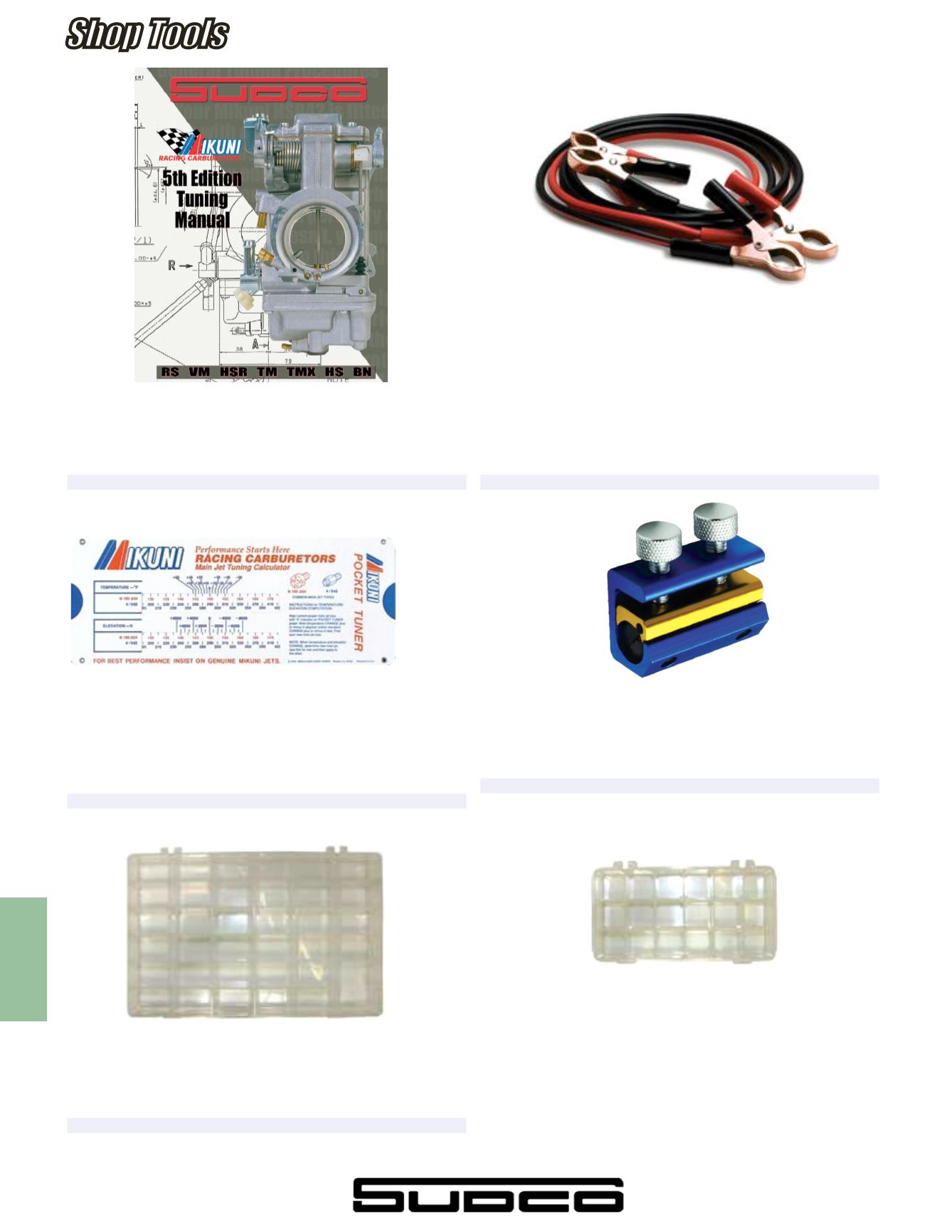 Mikuni Pocket Tuner
A handy pocket-size calculator which can be used to determine required
jetting changes in Mikuni carburetors due to climate and temperature
changes. The Pocket Tuner is applicable to both single and multi-
carburetor applications on two-stroke and four-stroke engines. It also has
a guide for determining rich or lean carburetor conditions.
Order No.
002-430
Sudco Plastic Jet Boxes (Storage Boxes)
Two boxes available, 36 compartment and 18 compartment.
Use for valve shim storage, small parts, electrical connectors and
carburetor jets. Sold each.
008-001
008-002
Description
Order No
.
Jet Box with 36 Compartments 7-1/2" L x 10-1/2" L x 1-1/4" H
008-001
Jet Box with 18 Compartments 3-1/4" L x 6-3/4" L x 1-1/2" H
008-002
Sudco Mikuni Tuning Manual
This 92 page manual includes exploded parts views, parts listings and
optional parts. Guides you through tuning and trouble shooting for the
popular lines of Mikuni Carburetors. The definite reference for Mikuni
Carburetors and a must for any do-it-yourself type. Sold each.
Order No.
002-999
Order No.
950-447
Motion Pro Battery Booster Cable Set
5 feet length, conveniently sized for motorcycle jump starting. Heavy-
duty alligator clips are color-coded red and black. Conductor wire is
firmly soldered to clamp for durability and reliability. Sold each.
Order No.
950-745
Motion Pro Cable Luber
Use to inject lubricant into cable housing. Clamps over cable housing
allowing an aerosol can tip to be connected for injection inside.
Once the lubricant runs out of far end, the cable is lubricated.
Sold each.
Shop Tools
W
aterCraft
t
oolS
C
hemiCal
e
leCtriCal
C
ontrol
S
uSpenSion
e
ngine
i
ntake
V
intage
498
ORDER: 800-998-3529
TECH: 310-637-8330