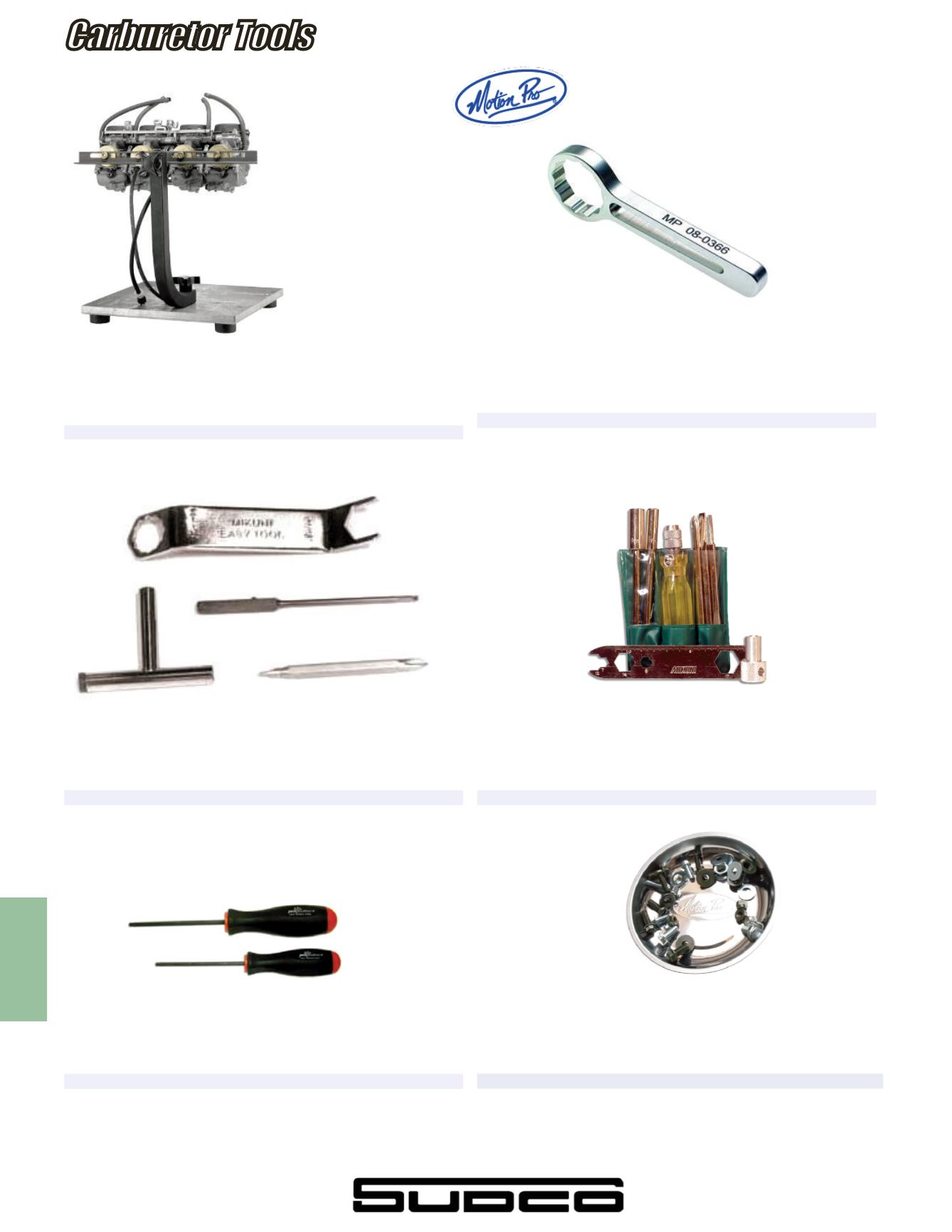 K&L Carb Service Stand
This stand conveniently positions carburetors at an ideal height and
allows 360∞ rotation for easy access. Parts storage base can be bench
mounted. Ideal for multi carburetors. Included expansion plugs hold
carbs with openings from 22mm to 41mm I.D. for unobstructed use.
Keihin FCR Tools
These tools allow access to allen screws from awkward angles which
are not possible with traditional hex keys. Sold each.
Description
Order No.
3mm Ball Hex Driver
950-210
4mm Ball Hex Driver
950-211
Motion Pro Float Bowl Wrench
Made from lightweight 6061 T-6 aluminum. This wrench is designed to
remove the 17mm float bowl drain plugs. 12 point hex and low profile
design for tight access. Sold each.
Order No.
950-201
Order No.
950-737
Sudco Mikuni Carb Tool Kit
This handy little kit includes a multi-purpose wrench with ruler
markings and a screwdriver with assorted blades and sockets.
Sold as a set.
Order No.
002-045
HSR Easy Tool Kit
The Easy Tool Kit includes an Easy Wrench with 17mm x 11/16" open
end wrench, Mini-T Jet Wrench with Phillips & Flat head blades and a
2.5mm Ball End Allen bit with 6mm hex. Mikuni No. KHS-033.
Order No.
002-046
Magnetic Parts Dish
All-purpose magnetic dish is ideal for keeping track of loose fasteners
and other small parts. Attaches magnetically to any steel surface.
Measures 6 in. in diameter and is 1in. deep.
Order No.
950-790
Carburetor Tools
W
aterCraft
t
oolS
C
hemiCal
e
leCtriCal
C
ontrol
S
uSpenSion
e
ngine
i
ntake
V
intage
496
ORDER: 800-998-3529
TECH: 310-637-8330