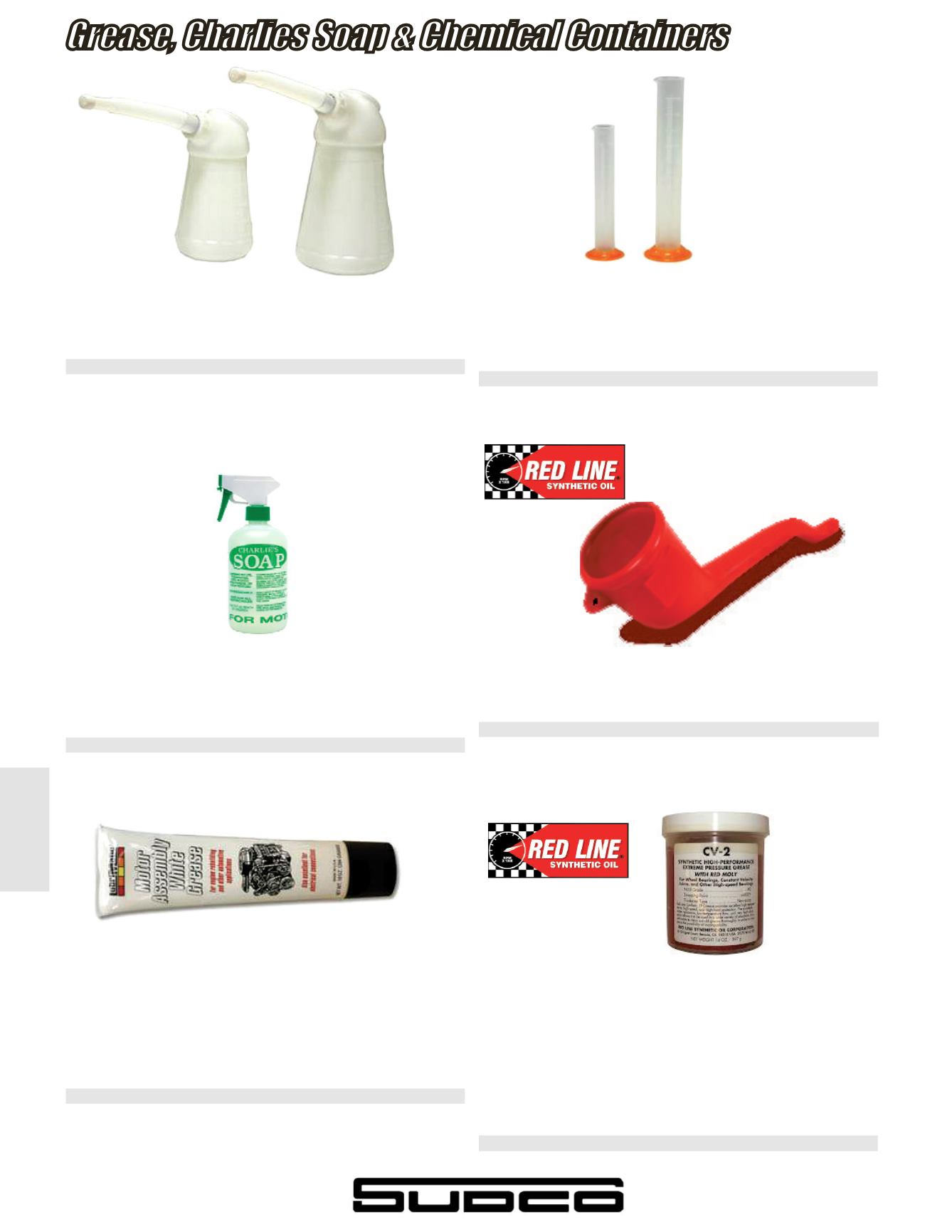 Charlie's Soap
Charlie's Soap for motorcycles, is a very effective, yet mild
product for cleaning all motorcycles. Safe for all plastics, decals,
and expensive paint jobs. Use full strength for dirt bikes or dilute 10:1
for street bikes. Sold in 17 oz. bottle.
Order No.
800-300
Plastic Oil Filler Cans
Available in 1 and 2 liter size. Sold each.
Made in Japan.
Description
Order No.
1 Liter
949-100
2 Liter
949-101
949-100
949-101
Measuring Cylinders
Available in 100cc and 200cc plastic beaker.
Sold each.
Made in Japan.
Description
Order No.
100cc
949-110
200cc
949-111
949-110
949-111
Redline Super Trick Funnel
Oddly shaped funnel allows pouring of oil or coolant around bodywork
to reach hard to get to filler openings. Pours in both horizontal and
vertical positions. Sold each.
Order No.
900-846
White Lithium Grease
Multipurpose White Lithium Grease™ is a quality white grease
(NLGI#1) specifically
designed to protect engine parts.
The exceptional consistency of this grease creates ease in application
for all engine parts including valves, bearings, crankshafts, wheels and
nut assemblies and all other areas where metal-metal contacts occur.
Sold in 8 oz. tube.
Order No.
800-545
Synthetic CV-2 Grease
Red Line CV-2 Grease is designed to withstand the extreme
temperatures and pressures which occur in high-performance
wheel bearings and CV-joints. The excellent high-temperature stability,
extreme-pressure protection, and water resistance enables
it to out-perform even the best conventional or synthetic greases.
Red Line CV-2 Grease can be used in a wide range of applications
at temperatures ranging between -100∫ F to 500∫
F and provides good
oxidation and corrosion resistance, low evaporation and oil separation,
and has a minimum effect on rubber seals. Sold in 14 oz. tub.
Order No.
900-850
Grease, Charlies Soap & Chemical Containers
W
aterCraft
t
oolS
C
hemiCal
e
leCtriCal
C
ontrol
S
uSpenSion
e
ngine
i
ntake
V
intage
492
ORDER: 800-998-3529
TECH: 310-637-8330