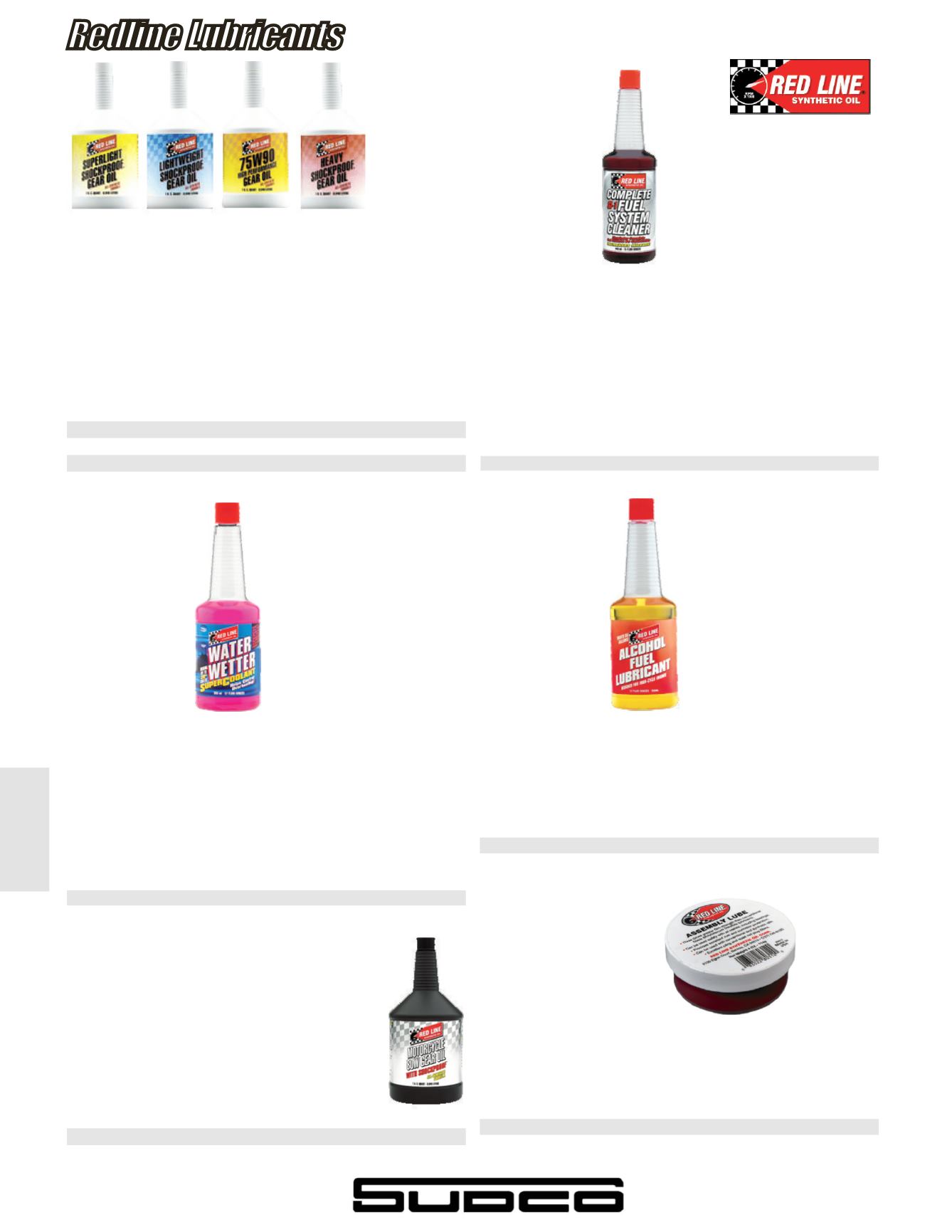 80WMotorcycle Gear Oil with
ShockProof
™
Designed for applications like two-stroke bikes, shifter
karts, the CRF250/CRF450 transmission. Used where
an 80W oil is called for, ShockProof's microscopic solid
medium provides cushioning between gear teeth, while
maintaining lower drag. Reduces the thinning effect from
high temperatures. Sold in quart bottle.
Assembly Lube
Provides three-times greater film strength than conventional black
Molybdenum Disulfide greases and will not clog oil filters. This product
clings to all surfaces and is an excellent rust inhibitor, allowing the
storage of parts for years. A thin film of protection is all that is required
when mating parts. Sold in 4 oz. tub.
Order No.
900-840
4-Stroke Alcohol Fuel Lube
Red Line Alcohol Lube is designed to combat corrosion and water
absorption within the fuel system of alcohol burning racing engines.
This specifically developed product will provide lubrication for all system
components as well as the upper cylinder, resulting in a much longer
component life when compared to straight alcohol.
Sold in 12 fl. oz. bottle.
Order No.
900-844
SI-1 Complete Fuel System Cleaner
SI-1's injector and valve detergent is a concentrated package of the
most powerful high-temperature detergents available to clean gasoline
fuel injectors or carburetors, intake valves and combustion chambers.
and can clean injectors to nearly 100% efficiency in one treatment. The
cleansing effect on injector deposits can raise fuel economy
12% or even greater depending on the condition of the injectors. SI-1
also contains detergents and a synthetic upper cylinder lubricant which
will help clean pollution control valves and can reduce octane require-
ments by two numbers. SI-1 also protects the fuel system from rust. Sold
in 15 fl. oz. bottle.
Order No.
900-870
Water Wetter
®
Water Wetter is a unique wetting agent for cooling systems which
reduces coolant temperatures by as much as
30∫ F. This liquid product
can be used to provide rust and corrosion protection in plain water for
racing engines, which provides much better heat transfer properties than
glycol-based antifreeze. Or it can be added to new or used antifreeze
to improve the heat transfer of ethylene and propylene glycol systems.
Designed for modern aluminum, cast iron, copper, brass and bronze
systems. Compatible with all antifreezes, including the latest long-life
variations. Sold in 12 fl. oz. bottle.
Order No.
900-842
ShockProof
™
Gear Oil
A unique lubricant containing a suspension of solid microscopic particle
as an extreme pressure agent--unique solid dispersion which cushions
gear teeth to help prevent tooth breakage and allows the use of lower
viscosities. The viscosity characteristics allow the lubricant to resist throw
off and provide a film thickness greater than an SAE250 grade, with the
same low fluid friction as with 80W140. Recommended for heavily-loaded
racing differentials and transmissions, Off Road racing and problem
gearboxes. Offers a "best of both worlds" balance of relatively low drag
and utmost in protection. Sold in quart bottles.
Description
Order No.
Superlight 70W90
900-820
Lightweight 75W/140
900-821
Heavyweight 75W/250
900-822
Gear oil for Automotive Differentials 75W/90
900-823
Description
Order No.
80W Gear Oil with ShockProof
900-824
Redline Lubricants
W
aterCraft
t
oolS
C
hemiCal
e
leCtriCal
C
ontrol
S
uSpenSion
e
ngine
i
ntake
V
intage
490
ORDER: 800-998-3529
TECH: 310-637-8330