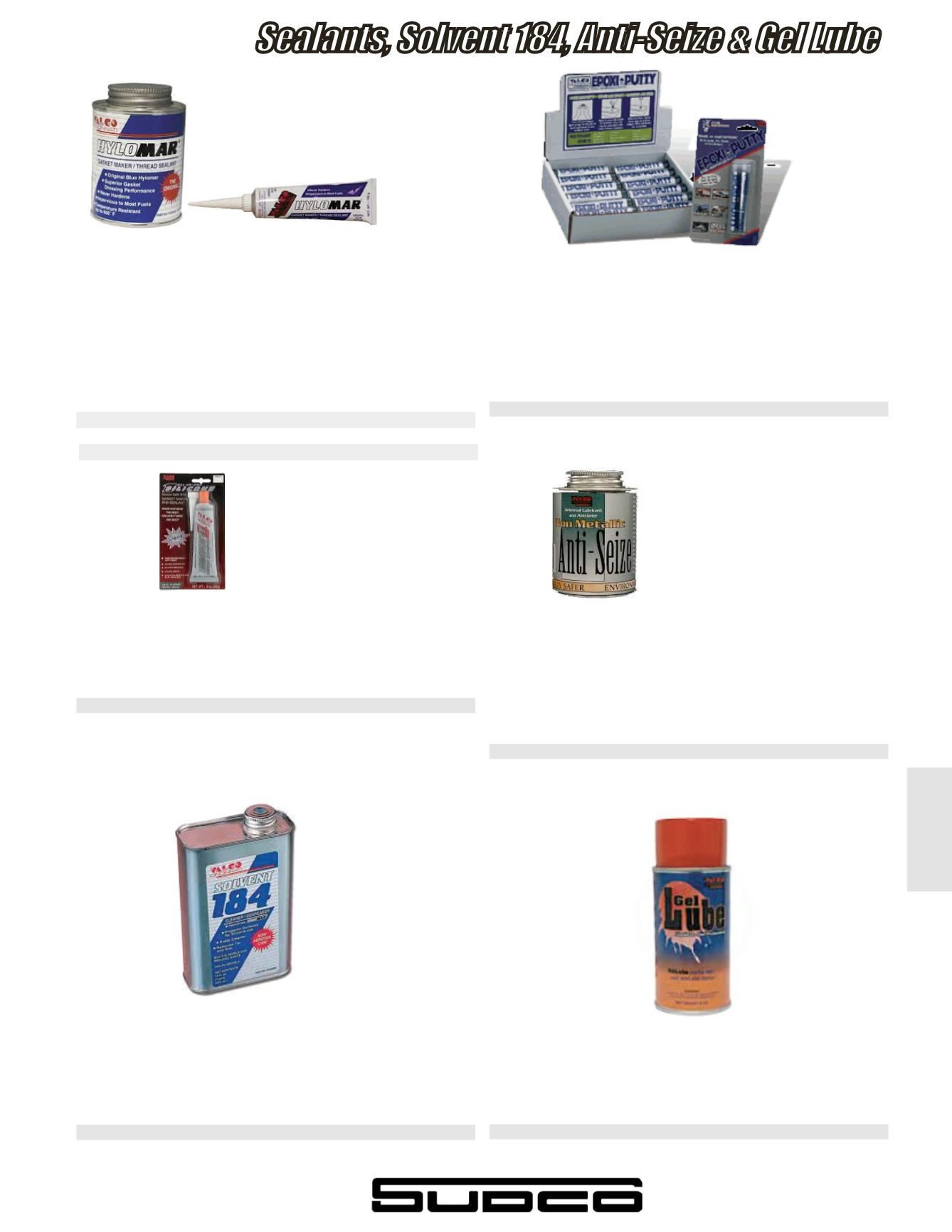 Epoxy-Putty
™
Epoxy-Putty is a steel reinforced, kneadable product that mixes like
putty, bonds like epoxy, and hardens like steel. It is extremely tough
and durable and adheres to a wide range of metals as well as PVC,
plastic, ceramic, fiberglass, glass and wood. Epoxi-Putty sets up under
water and is impervious to chemicals, and has a shelf life of three years.
After one hour, it can be drilled, tapped, filed and machined. Cured
Epoxy-Putty will withstand temperatures up to 500º F. Sold in 2 oz. clear
cylinder with cap.
Order No.
800-540
Non-Metallic Anti-Seize
Non-Metallic Anti Seize lubricant contains no metals and is safe to
use on stainless steel and other sensitive alloys. The compound is
specifically designed to protect against galling, erosion and sealing.
Non-metallic Anti Seize makes for easier disassembly. It can be used
on pipe threads, pump and valve packing, low speed bearings, shafts,
gears and cable or use as a dry film lubricant.
Sold in 8 oz. can with brush.
Order No.
800-550
Hylomar Gasket Maker and Thread Sealant
Hylomar can be used as a dressing or a gasket maker. It is non-hard-
ening and is impervious to chemicals such as fuels, oils and antifreeze. It
makes an excellent dressing for any cut gasket where tempera-
tures remain below 600º F. The product will form a gasket if used by itself
when sealing a gap of less than 0.010 inch between precision machined
surfaces. A Hylomar treated joint can be disassembled, inspected, and
reassembled without reapplication. Sold in 100 gram tube and 250 ml.
brush-cap can.
Gel Lube
Engine assembly is made easier, quicker, and cleaner with Valco's
premier lubricant —GelLube™. GelLube sprays on thin and penetrates
quickly—transforming into a heavy-duty, load-bearing, protective gel.
GelLube does not drip, melt or shift when applied. GelLube bonds to
metal surfaces and fills all small spaces and crevices on valve springs,
cranks, cams, bearings and much more. Sold in 8 oz. can.
Order No.
800-565
All-In-One RTV Silicone
Premium-grade RTV silicone that does it all. RTV silicone is oxygen
sensor safe, has a low volatility rating, is usable from 80º F to 600º F,
and is solvent resistant. Choose from Aluminum or Clear.
Sold in 3.0 oz. tube.
Order No.
800-510
Solvent 184™
Solvent 184 is a great cleaner of electrical contacts, brakes, alternators,
electric motors, starters, machined surfaces and much more. It removes
tar, wax and petroleum products, and may be used to prepare surfaces
for application of sealants and adhesives. Solvent 184 is non-flammable,
easy to use and comes in a non-aerosol can with a built-in nozzle cap that
reduces waste. Sold in 16 oz. nozzle-top can
Order No.
800-555
Description
Order No.
Valco Hylomar 100 gr Tube
800-530
Valco Hylomar 250 ml Brush-Cap Can
800-531
Valco Hylomar 5ml Blue Medium
800-532
Sealants, Solvent 184, Anti-Seize & Gel Lube
V
intage
i
ntake
e
ngine
S
uSpenSion
C
ontrol
e
leCtriCal
C
hemiCal
t
oolS
W
aterCraft
485
WEB:
WWW.SUDCO.COM
E-MAIL:
SUDCO@SUDCO.COM