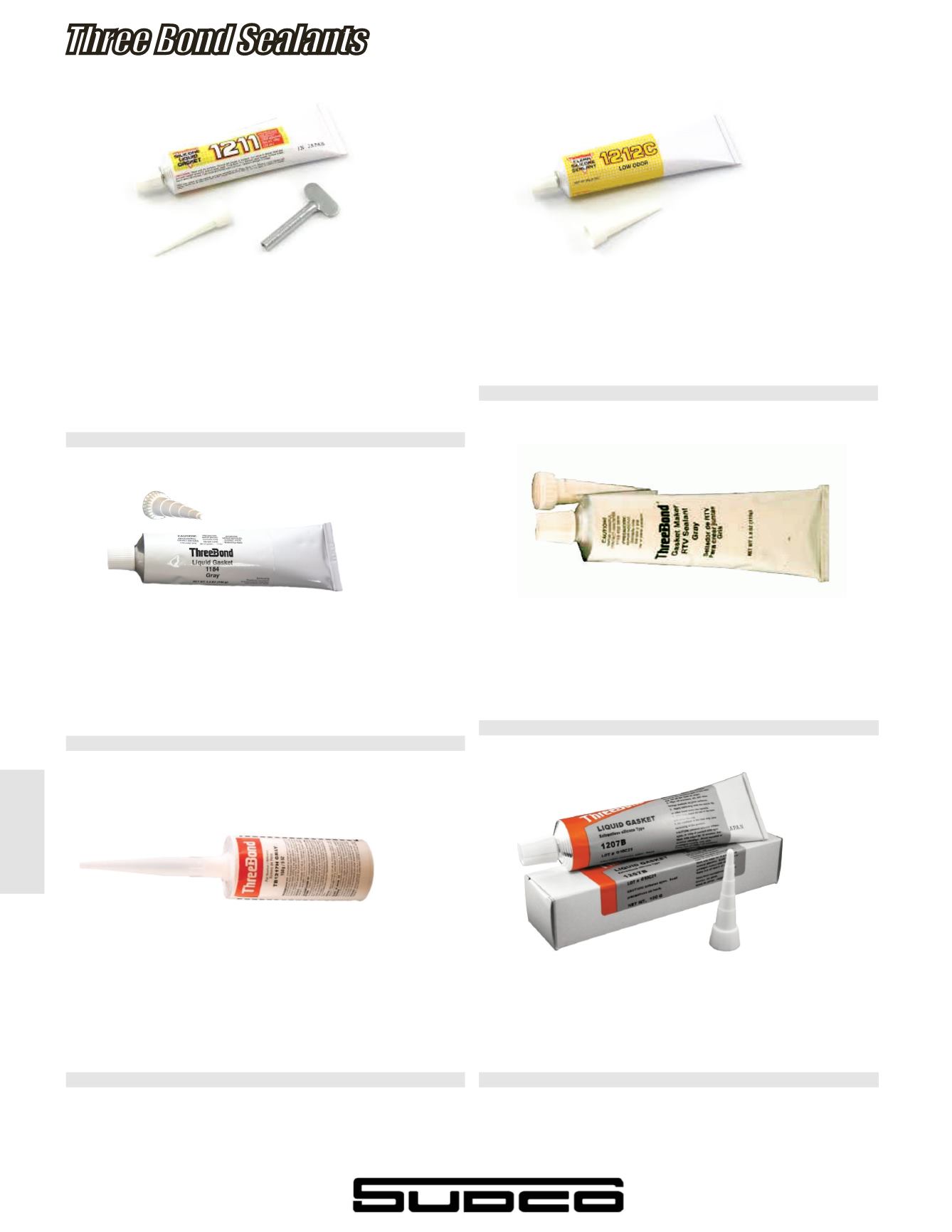 Clear Silicone Liquid Gasket TB1212C
A low odor, fast setting, non slumping paste that cures at room
temperature to a rubbery solid. This multi-purpose RTV silicone sealant
can be used in numerous bonding and sealing applications such as
pumps, gearboxes, marine cabins, windows and electrical boxes.
Sold in 3 oz. tube.
Order No.
800-213
White Silicone Liquid Gasket TB1211
A free flowing, low viscosity, one compound RTV silicone rubber.
Ideal for places where long seal is absolutely critical. Recommended
for sealing flange surfaces and screw sections to prevent oil, water,
gasoline and chemical leaks. Effective over a wide temperature range,
- 76∫ to 482∫ (60∫ to 250∫ C). Tack
free in 90 minutes; fully cured in 24
hours; attains optimum strength within 3 days. Recommended for ATV,
automotive, motorcycle, snowmobile and personal watercraft engines.
Sold in 3.5 oz. tube.
Order No.
800-212
Gasket Maker Gray TB1200GAU3Z
NEW
RTV sealant (gray) high viscosit
y, gasket maker. OEM specified
product with good elasticity. Temperature, and chemical resistant.
Resists oil, water, coolants, and gasoline. Excellent as general
purpose LGM with high resistance to heat and cold.
Sold in 3.8 oz. tube.
Order No.
800-216
Gasket Maker Gray TB1217H
NEW
This is a great LGM where difficult or loose fitting components are used.
Can be loaded up-side-down and it's fast setting properties allow for
assembly within seconds of application. It's high resistance to motor
and gear oil make it an excellent choice for transmission and drive train
assembly.
.
Sold in 5 0 oz. cylindrical tube with applicator tip.
Order No.
800-218
Gasket Maker Black TB1207B
NEW
One of the finest RTV LGM's available any where. It is particularly good
with adhesion to both plastic and metal. The proprietary formulation
features advanced elongation properties and is exceptional in uses
where extreme vibration, torque, and heat are involved,
Sold in 3.4 oz. tube.
Order No.
800-217
Case Sealant Liquid Gasket TB1184
A semi drying synthetic rubber liquid gasket which is resistant to oil,
water, chemicals and gasoline. Application areas include sealing
transmission case covers, 2-stroke crank cases, timing chain cases,
side covers, 2-piece cylinders, clutch housing bolts and oil filter
mounting surfaces.
Note
: Replaces TB1104.
Temperature rang
e from 40∫ F to 302∫ F. Sold in 100 g. tube.
Order No.
800-215
Three Bond Sealants
W
aterCraft
t
oolS
C
hemiCal
e
leCtriCal
C
ontrol
S
uSpenSion
e
ngine
i
ntake
V
intage
484
ORDER: 800-998-3529
TECH: 310-637-8330