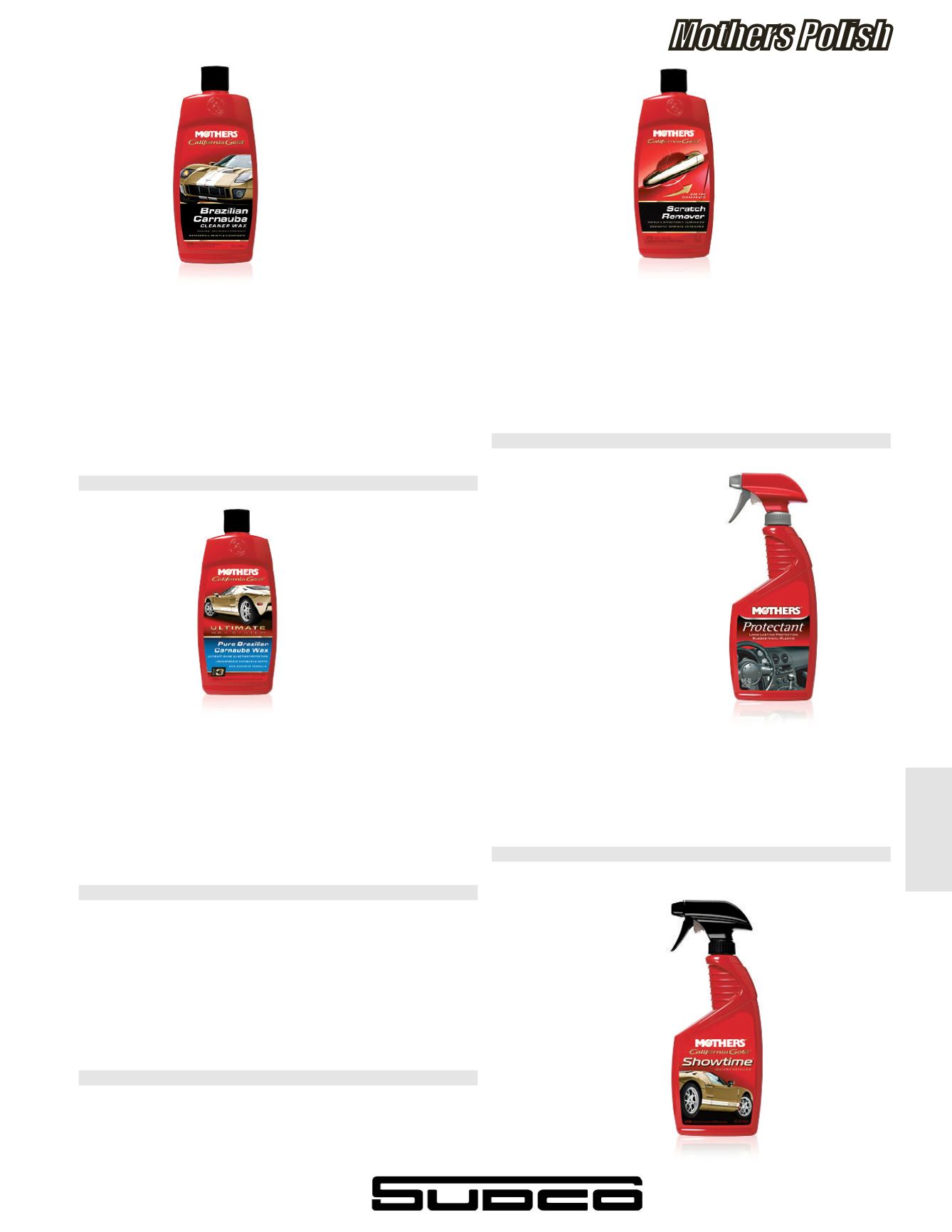 California Gold Scratch Remover
There are areas of your paint's finish that see more abuse than others: on
the edges of doors and the trunk lid, around the door handles, keyholes, at
the hood latch, etc. What you need is a scratch remover. Mothers has one.
Our Scratch Remover works on any sort of paint, any sort of finish, to help
restore high mileage paint and remove surface scratches. This is a true
polish-be sure to chase it with the standard regimen of waxing to properly
seal and protect. Sold in 8 oz. bottle with drip cap.
Order No.
800-788
California Gold Original Formula
Carnauba Cleaner Wax
Original Formula Carnauba Cleaner Wax is designed to be the one-step
plan for paint preservation. This special Carnauba Cleaner Wax is for-
mulated to clean and protect in just one application. We used the same
Brazilian #1 yellow carnauba that makes our Pure Carnauba Wax so
special, and combine it with a light polish that will smooth minor flaws and
make your paint snap. Carnauba Cleaner Wax is especially effective on
fiberglass and gel coats. Available in long lasting, easy-to-apply liquid or
paste. Sold in 16 oz. bottle.
Order No.
800-736
California Gold Natural Formula Pure
Carnauba Wax
This is the final step on the path to a beautiful finish. Mothers Pure
Carnauba Wax is made with the finest Brazilian #1 yellow carnauba for
superior shine and protection. Natural Formula is non-abrasive, so use
as much as your paint needs, as often as you like. You can also apply
more than one coat to keep your efforts well protected. For unsurpassed
shine, depth and protection, trust Mothers Ultimate Wax System.
Sold in 16 oz. bottle.
Order No.
800-737
Preserves Protectant
Preserves and protects for 30 days! Our Mothers Preserves Protectant
is available in traditional spray-on liquid or as convenient, ready-to-use
wipes. Preserves is a penetrating UV blocker, effective on rubber, vinyl,
plastic and fiberglass. Constructed to recondition and maintain the origi-
nal condition and appearance of dashboards, vinyl, bumpers, trim, tires
and more. Sold in 16 oz. spray bottle.
Order No.
800-720
California Gold Showtime Instant Detailer
Treat your paint to a Showtime sparkle that's wet and striking. Whether
you want to clear a layer of dust or prepare for the judges, use Showtime
Instant Detailer. This unique formula will clean off fingerprints, smudges,
dust, hide minor imperfections and spider webbing. Showtime is
designed with color enhancers and shine fortifies, ready whenever you
need your ride to look freshly detailed.
Sold in 16 oz. spray bottle.
Order No.
800-784
Keep a couple of dry towels handy as Showtime shines best with a dry
towel. Be sure to remove Showtime before it evaporates. Showtime can
be applied in direct sunlight as long as the surface is not excessively
warm.
Mothers Polish
V
intage
i
ntake
e
ngine
S
uSpenSion
C
ontrol
e
leCtriCal
C
hemiCal
t
oolS
W
aterCraft
481
WEB:
WWW.SUDCO.COM
E-MAIL:
SUDCO@SUDCO.COM