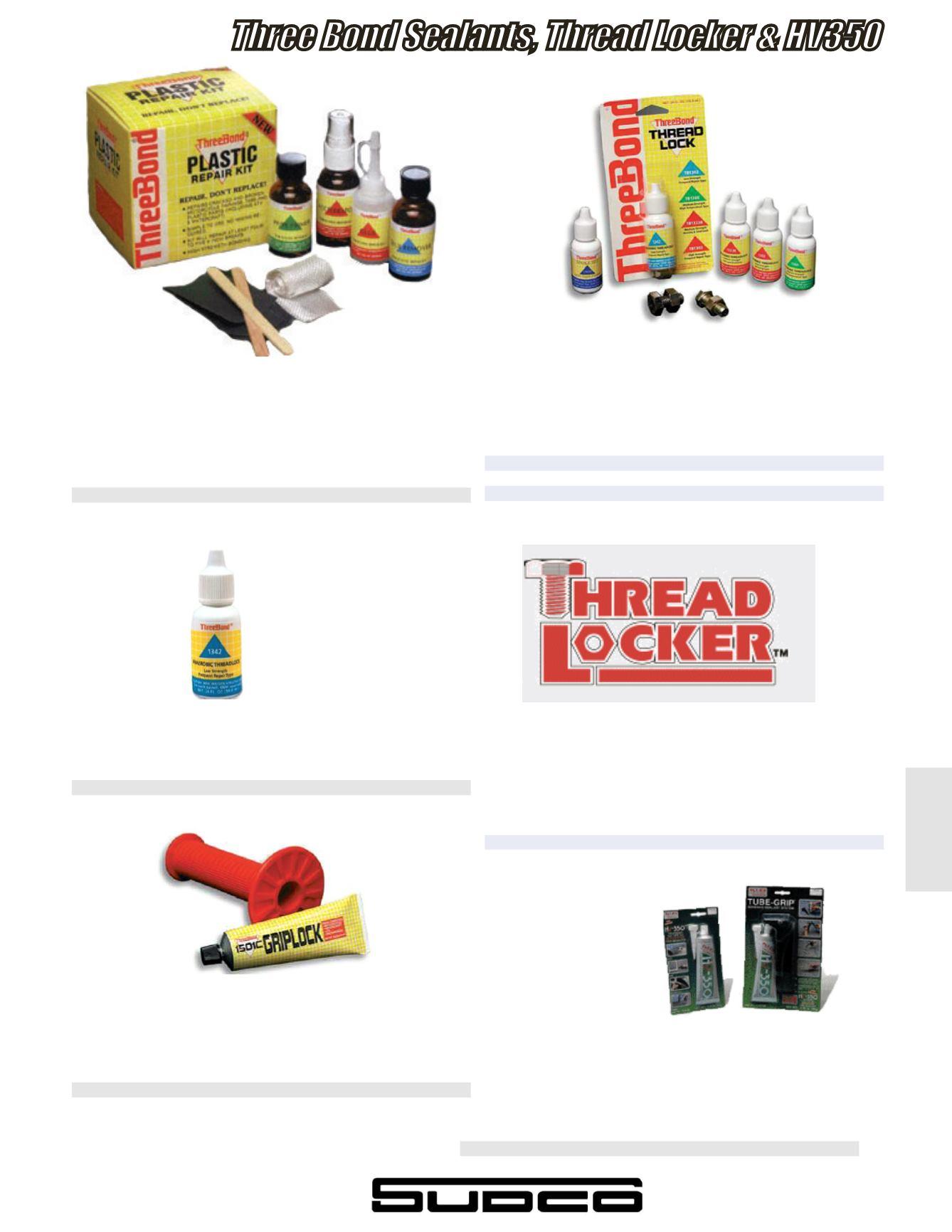 Thread Locker
LOCK. RETAIN. SEAL. GASKET. Thread Locker compounds perform at
high temperatures, prevent corrosion, and resist water, oils, hydrocar-
bons and more. They also withstand vibration, improve load distribution
and act as a lubricant during assembly. Adurable plastic seal cures in the
absence of air when activated by a metal component or primer.
Description
Order No.
Thread Locker, Medium-Strength Blue, 10 ml
800-560
Three Bond Griplock TB1501C
Keep grips in place without damaging the rubber. Use on ATV's, motor-
cycles, snowmobiles and personal watercraft.
Sold in 1 oz. tube.
Order No.
800-155
Three Bond Spoke Tight TB1361D
Drip control nozzle. Sets spoke nipples snug and protects threads from
rust and corrosion. Sold in .34 oz. bottle.
Order No.
800-135
Three Bond Anaerobic Thread Locks
No matter what locking properties are required, one of Three Bond's
thread lock products will get the job done. All of Three Bond's thread
lock inhibit the development of rust, leaks, corrosion and are not affect-
ed by oils, chemicals, salt water, various gases or organic solvents.
HV-350™ Adhesive
This multipurpose adhesive virtually outperforms any glue, epoxy or sili-
cone on the market today. "HV" stand for high vibration. Its tremendous
elasticity allows it to work in high vibration applications, such as repair-
ing a broken tail light. HV-350™ is sandable, paintable, highly abrasion
resistant and flexible. This glue can be used on highly porous surfaces
such as foam, rubber, and fiberglass. It could also be used on nonporous
surfaces such as metal, glass and plastic. Sold in 3.35 oz. tube.
Order No.
800-500
Description
Order No.
Plastic Repair Kit TB1743
800-150
Glue only TB1743A, 1 oz. tube
800-151
Three Bond Plastic Repair Kit TB1743
This plastic repair kit quickly and economically repairs broken and
cracked hard to bond plastics, fairings, mounting tabs, personal water-
craft snowmobile hoods and brackets. Plastics such as Polypropylene,
Polyethylene, Polyacetal and ABS are now possible to repair. Simple to
use and no mixing required. Kit includes: glue, primer, accelerator, glue
remover, sand paper, fiberglass and application sticks.
Description
Three Bond Ref. Order No.
Low Strength: Frequent Removal
TB1342 10ml
800-120
Medium Strength: Bearing & Stud
TB1333 10ml
800-124
High Temp: Extreme Temperature
TB1360 10ml
800-128
Three Bond Sealants, Thread Locker & HV350
V
intage
i
ntake
e
ngine
S
uSpenSion
C
ontrol
e
leCtriCal
C
hemiCal
t
oolS
W
aterCraft
483
WEB:
WWW.SUDCO.COM
E-MAIL:
SUDCO@SUDCO.COM