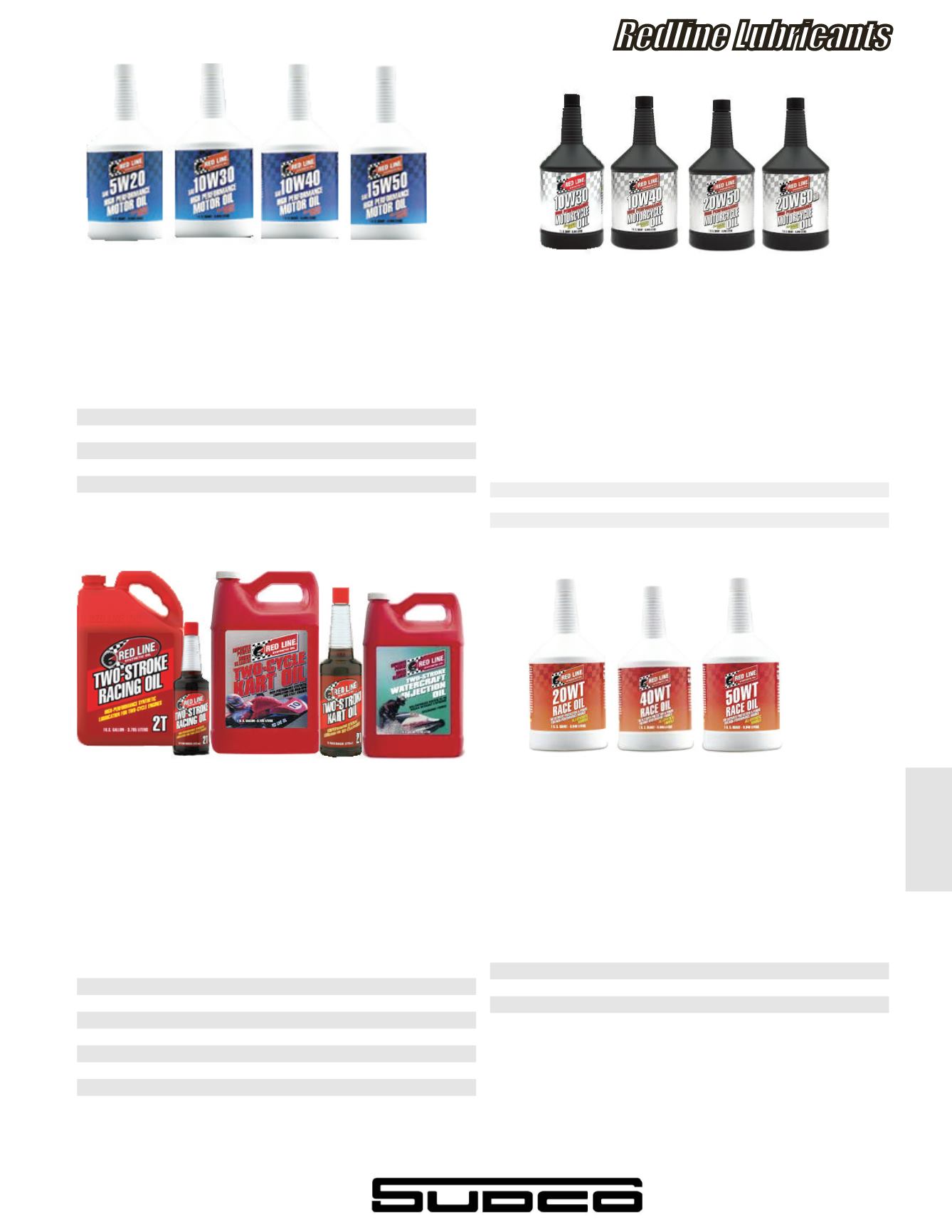 Synthetic Motor Oils
Red Line's synthetic engine oils are designed to provide the highest
protection, cleanliness and superior drain intervals with the lowest fric-
tion for your gasoline, diesel, motorcycle or marine engine. Redline's
products are unique because they contain polyol ester base stocks, the
only lubricants which can withstand the tremendous heat of modern jet
engines. Sold in quart bottles.
Description
Order No.
5W30
900-804
10W30
900-800
10W40
900-801
15W50
900-802
20W50
900-803
Synthetic Racing Oil
Red Line's racing synthetic oils are made with the most thermally stable
synthetic base stocks available and provide the best high-temperature
lubrication and a higher film strength than any petroleum or synthetic on
the market today. Although Red Line racing oils are categorized
as "straight grades", their low-temperature properties make them
exceptional multigrade, allowing 2-4% more power than an oil of similar
viscosity, while providing much more protection. Each reduction
in viscosity grade allows 1-2% more power. To reduce the chance of
detonation, Red Line race oils contain very few detergents and are not
recommended for street use. Sold in quart bottles.
Description
Order No.
20 WT SAE (5W20)
900-810
30 WT SAE (10W30)
900-811
40 WT SAE (15W40)
900-812
50 WT SAE (15W50)
900-813
Two-Stroke Racing Oil
Red Line's popular two-stroke lubricants contain base oil which have
the highest film strength and greatest affinity for hot metal. Because
Red Line is a superior high temperature lubricant, it can be used at
lower fuel to oil ratios, increasing power and providing excellent scuff
protection and cleanliness. Where many two-stroke oils are recom-
mended to run 32:1, many Red Line customers often mix at a leaner
40:1. Red Line provides the lubricating cleanliness, with low carbon
residue that dramatically reduces plug fouling and smoke. Red Line
provides special protection for formulated fuels. Dyno proven to make
more power over longer periods of operating time.
Sold in 16 oz. and gallon bottles.
Description
Qt
Order No.
2-Stroke All Sport
16 oz
900-833
2-Stroke Alcohol
16 oz
900-848
2-Stroke Race
16 oz
900-830
2-Stroke Kart
16 oz
900-831
Watercraft & Injection
1 gallon
900-854
2-Stroke Race
1 gallon
900-829
2-Stroke Kart
1 gallon
900-832
High Performance Motorcycle Oils
Red Line's High Performance Motorcycle Oils are fully-synthetic formu-
las specifically created for the high demands of the latest high-revving
four-stroke motocross bikes, ATVs, Sportbikes, and V-Twins. Available
in popular viscosities of 10W30, 10W40, 20W50, and 20W60, these
ester-based products contain the anti-wear chemistry demanded
by mechanics and enthusiasts. This oil also features lower levels of
friction modifiers for superior wet clutch operation. Excellent thermal
stability, oxidation resistance, cleanliness, and ability to lubricate hot
metal make Red Line High Performance Motor Oil a superior lubricant.
Recommended for JASO MB, API SJ, SG, & SH.
Sold in quart bottles.
Description
Order No.
10W30
900-880
10W40
900-881
20W50
900-883
20W60HD
900-805
Redline Lubricants
V
intage
i
ntake
e
ngine
S
uSpenSion
C
ontrol
e
leCtriCal
C
hemiCal
t
oolS
W
aterCraft
489
WEB:
WWW.SUDCO.COM
E-MAIL:
SUDCO@SUDCO.COM