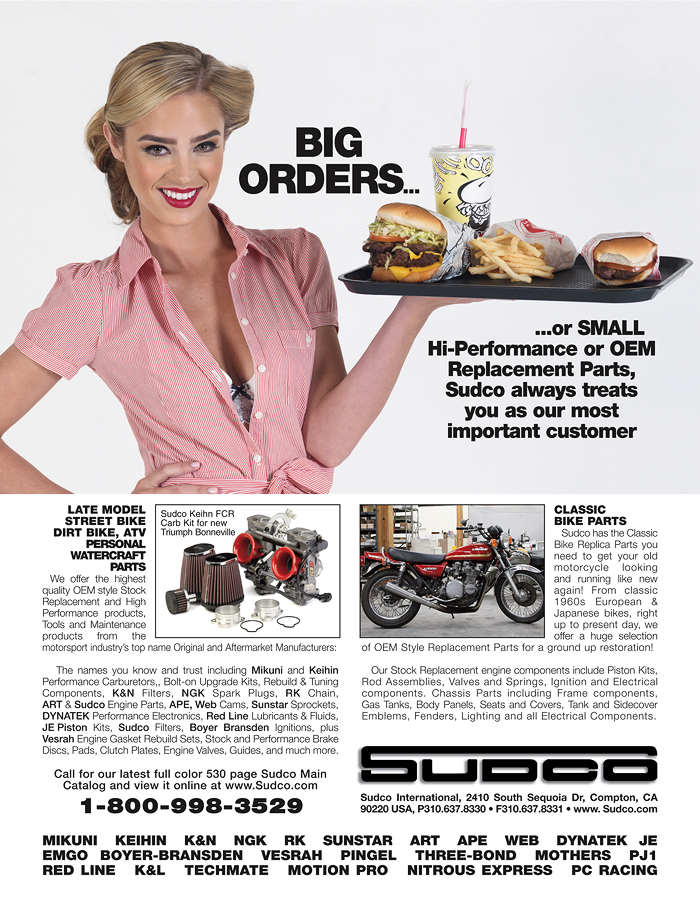 New! Sudco Carburetor Rebuild / Reconditioning Services
Sudco now offers full Mikuni and Keihn Carburetor Rebuilding Services by our qualified technicians using all new OEM parts.
Pricing is dependent on the Carburetor Model, Reconditioning and Parts need after our teardown Inspection
of your Carburetor Assembly. We can Re-Jet / Re-Tune your Carburetor at the same time if needed.
Contact your Sudco Sales Representative for more information.

Sudco New Products • Current Job Opportunities • Sign Up for the Sudco Monthly News Letter Here
Keep Up to Date on New Products, Specials & Discounts
Please include your Name, Store and Address, Phone in the Return Email. Unsubscribe at Any Time

Sudco International, 2410 South Sequoia Drive, Compton, CA 90220
New Phone (01) 310 637 8330 • New Fax 310 637 8331
Sudco Classic Japanese Replacement OEM Motorcycle Parts. Sudco has the Classic Bike Replica Parts you need to get your old motorcycle looking and running like new again! From classic European bikes like Triumph and Norton, to Japanese Honda CB750, Suzuki GS 750 and 1100, to Kawasaki Z1 and Z1-R, we offer a huge selection of OEM Style Replacement Parts for a ground up restoration!

Our Stock Replacement engine components include piston kits, rod assemblies, valves and springs, ignition and electrical components. Chassis Parts including frame components, gas tanks, body panels, seats and covers, tank and sidecover emblems, fenders, lighting and all electrical components.
Sudco is also the leading source for Mikuni and Keihin Carburetor Conversion Kits so classic bikes start easily and are a joy to ride!
Sudco offers current model Japanese OEM style Street Motorcycle, Dirt Bike, ATV and Personal Watercraft OEM Syle Stock Replacement Parts
The highest quality OEM style stock replacement and high performance products from the industry's top brand name Original and Aftermarket manufacturers:
The names you know and trust including Mikuni and Keihin Original and Performance Carburetors, Bolt-on Upgrade Kits, Rebuild & Tuning Components, K&N Filters, NGK Spark Plugs, RK Chain, ART Engine Parts, APE Cams, Sunstar Sprockets, Dyna Performance Electronics, Red Line Lubricants & Fluids, JE Piston Kits, EMGO Filters, Boyer Bransden Ignitions. Vesrah Engine Gasket Rebuild Sets, Stock and Performance Brake Discs,, Pads, Clutch Plates, Engine Valves & Guides, and much more.