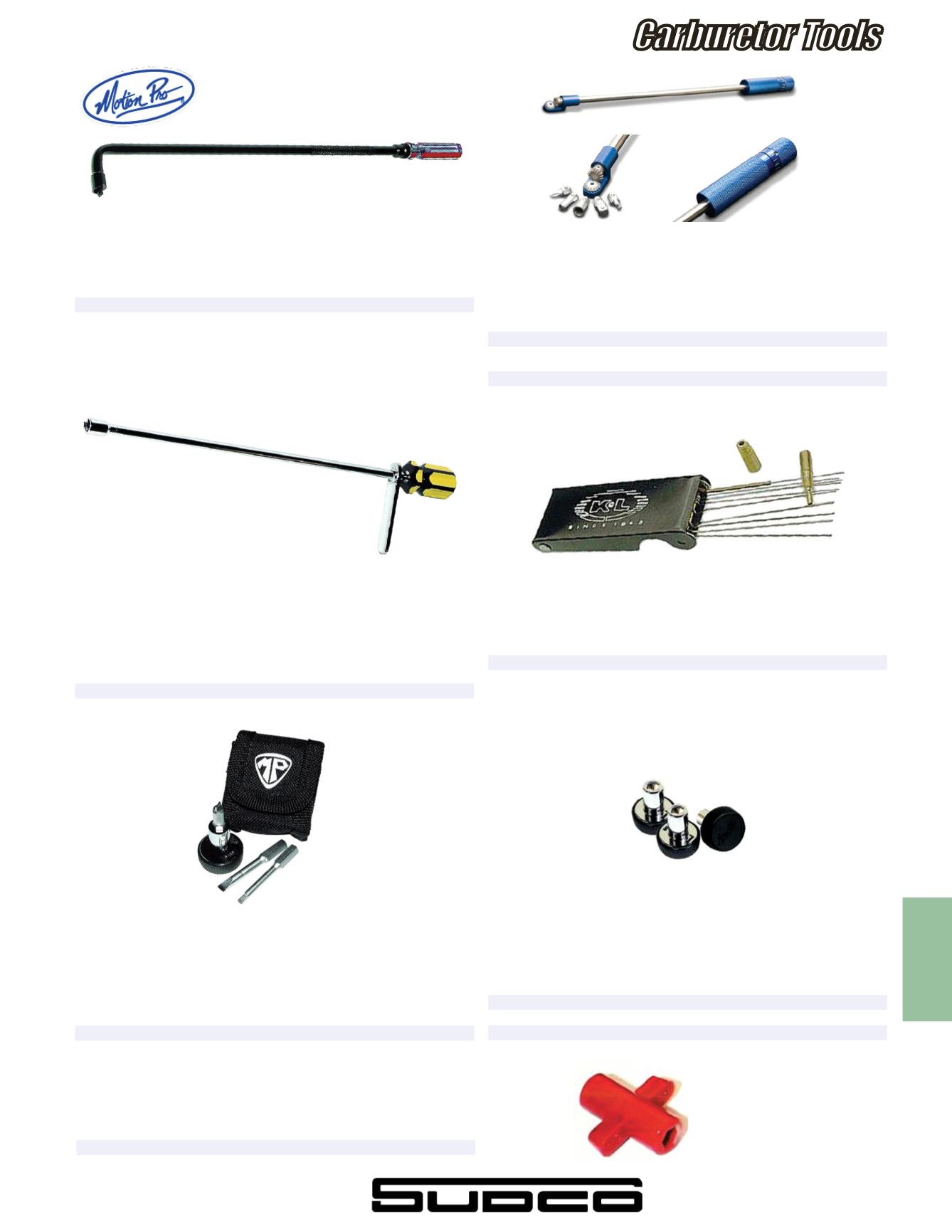 Motion Pro Pilot Screw Adjusting Tool
Designed for those hard-to-reach air/fuel mixture screws on most
multi-cylinder motorcycles. 110∫ angled head extends reach 1".
Length is 17" with a straight-slot blade tip. Sold each.
Motion Pro 90-Degree 1/4" Hex Driver
Gear driven, 1/4" hex driver set is precision made of aircraft grade
aluminum and stainless steel. Designed for use on hard-to-reach air/
fuel screws on multi-cylinder motorcycles. Can be used with any 1/4"
or 6mm hex bits. Includes straight slot, phillips, d-shape pilot screw
bit, 6mm hex jet bit & 1/4" - hex - 1/4" drive bit.
Motion Pro FCR Carb Tool
Longer bits make this set ideal for reaching into recessed cavities to
adjust Keihin FCR carburetors. Cap compartment will hold a few spare
jets. Ideal for trail riders and garage mechanics. Set includes three bits,
6mm hex for main jets, long reach straight slot for pilot jets and a 3mm
Allen for float bowl removal. Sold as a set.
Motion Pro Carb Adjusting Tool
Designed for use on Honda, Kawasaki, Suzuki, and Yamaha. Fits
both Mikuni and Keihin carbs with 8mm hex nut and screw driver slot
adjusting bolt. This tool make those hard to reach carb adjustments
easy and safe. Length is 11". Sold each.
Order No.
950-403
Order No.
950-405
Order No.
950-478
Order No.
950-406
Motion Pro Main Jet Wrenches
These high quality, die cast construction main jet wrenches have a
rubber snap-off lid on body for storage of extra jets. Sold each.
Description
Order No.
6mm Round
950-417
8mm Hex
950-416
6mm Hex
950-415
Keihin/Mikuni Main Jet Wrench
Description
Order No.
Main Jet Wrench
002-401
Order No.
950-203
K&L Carb Cleaner Wire Set
14 piece wire set with spiral knurling. Use for cleaning popular size jets
and carb body holes/passages.
Description
Order No.
Bit, D-Shape for 950-470
950-789
Carburetor Tools
V
intage
i
ntake
e
ngine
S
uSpenSion
C
ontrol
e
leCtriCal
C
hemiCal
t
oolS
W
aterCraft
495
WEB:
WWW.SUDCO.COM
E-MAIL:
SUDCO@SUDCO.COM