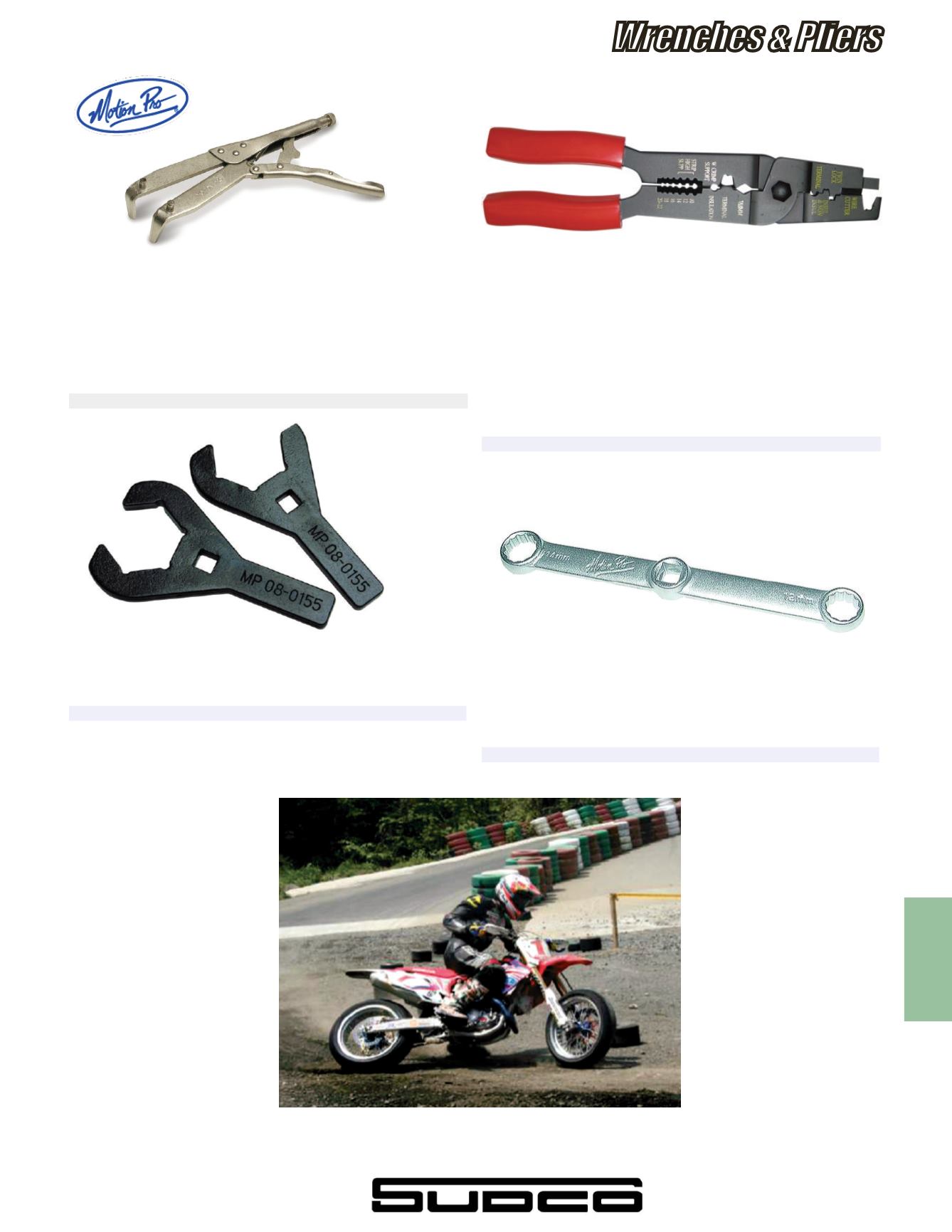 Motion Pro Clutch Holding Tool
Made from medium carbon steel with hardened jaws. Features 8mm
spanner pins. Jaws open up to 5" wide. Hold clutch hubs, flywheels,
gears, sprockets, etc. Recommended for square tooth style clutch hubs.
NOT RECOMMENDED
for v-groove or half round style clutch hubs. Sold
each.
Order No.
950-728
Motion Pro Torque Wrench Adapter
Made from chrome vanadium tool steel with hard nickel pewter finish.
Properly torque two-stroke cylinder base nuts and hard to reach
fasteners. Multiply your torque wrench readings by chart supplied with
tool for proper torque specifications. Always check with your owners
manual for proper torque specifications for each model.
Order No.
950-460
Motion Pro Yamaha ATV Axle Wrench
Made from heat-treated steel. Includes a 1/2" drive slot for use with a
torque wrench or breaker bar. Sold as a set.
Order No.
950-464
7 Way Crimping Tool (CT-1)
• Incorporates wire cutter, terminal crimper and wire stripper into
one handy tool
•
Black anodized finish with insulated hand grips
•
Crimp slot on end of tool secures most ignition terminals including
"W" type, right angle and "High-Tower" terminals
•
Crimps 7mm to 8.5mm ignition wire
•
Works with 10 to 22 gauge solder-less terminals
•
WARNING
- Disconnect power source before using this tool.
Order No.
618-999
Wrenches & Pliers
V
intage
i
ntake
e
ngine
S
uSpenSion
C
ontrol
e
leCtriCal
C
hemiCal
t
oolS
W
aterCraft
499
WEB:
WWW.SUDCO.COM
E-MAIL:
SUDCO@SUDCO.COM