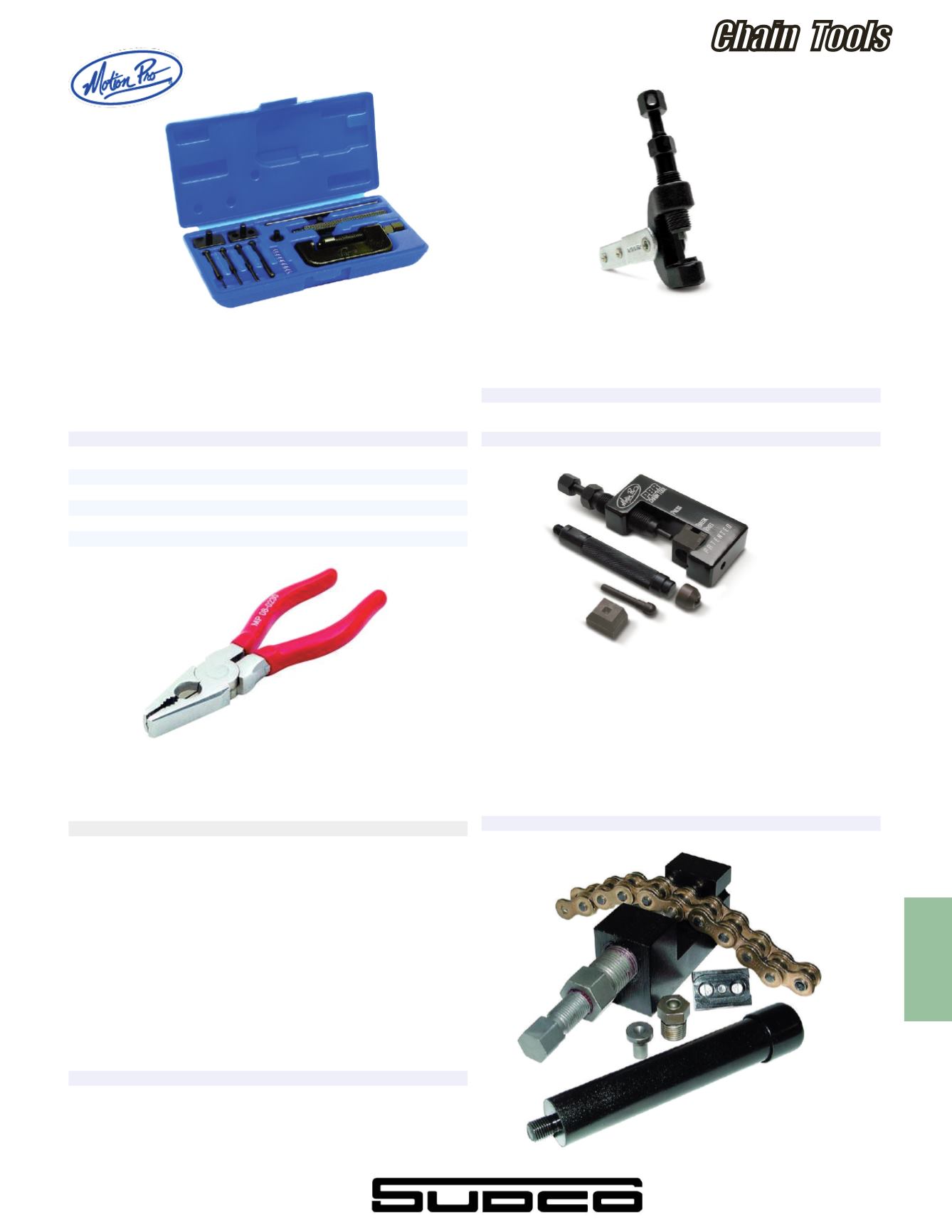 Motion Pro Chain Breaker
For chain #420 to #530 chain. This chain breaker pushes link pin
completely through link/side plate. Handle folds away for easy storage.
Sold each.
Replacement Parts
Description
Order No.
2mm Replacement Tip
950-421
3mm Replacement Tip
950-422
4mm Replacement Tip
950-423
Replacement Rivet Tip
950-424
Order No.
950-420
Order No.
950-430
Replacement Pin - Heat treated for strength.
Order No.
950-431
Motion Pro Master Link Clip Pliers
Designed to simplify installation and removal of clip-type master links,
one tip is shorter and notched to be placed on the pin which allows the
longer end to push the clip.
Order No.
950-759
Motion Pro Chain Breaker & Riveting Tool
This tool is versatile enough to be used on cam chains or drive
chains. 2mm breaking tip for most cam chains, 3mm breaking tip for
chains #25-#35 only, and 4mm breaking tip for drive chain #428-#630,
it is recommended to grind the rivet head. Each kit includes 3 pin sizes
to fit most chains (2.2mm, 2.9mm, 3.8mm) and press plates. with plastic
storage box and instructions.
Order No.
950-786
Motion Pro Jumbo Chain Tool
NEW
Designed to break roller chain up to 630. Fits all standard & O-ring chain
sizes 520 to 630. Rivets chain up to 530 (not 630). Master link side plate
press kit included to press on side plates on chains up to 530 (not 630).
The extractor pin is precisely guided by a removable guide, ensuring
long pin life. May be bolted to a work bench, supported in a vise or held
by handle. Recommended for heavy-duty use For riveting hollow nose
master links. Requires 08-0142 Quad Stake Rivet Kit (not included) to
rivet soft-nose type master link pin tip
Order No.
950-785
Motion Pro PBR Chain Tool
NEW
Innovative design will Press, Break & Rivet 520, 525, & 530 chains with
one convenient tool. Removes chain pins, press master-link plates and
rivet hollow nose & soft nose (quad stake) master link pins on
O-ring and non O-ring type chains. Easy to use design allows you to
change tool functions by simply moving the position of the anvil block.
Indexing letters on movable anvil and body ensures correct tool config-
uration. All steel construction with heat treated components for strength
and durability. Compact and light enough to carry in a tool bag for trail
side repairs. Includes spare pin. Patented Design
Chain Tools
V
intage
i
ntake
e
ngine
S
uSpenSion
C
ontrol
e
leCtriCal
C
hemiCal
t
oolS
W
aterCraft
505
WEB:
WWW.SUDCO.COM
E-MAIL:
SUDCO@SUDCO.COM