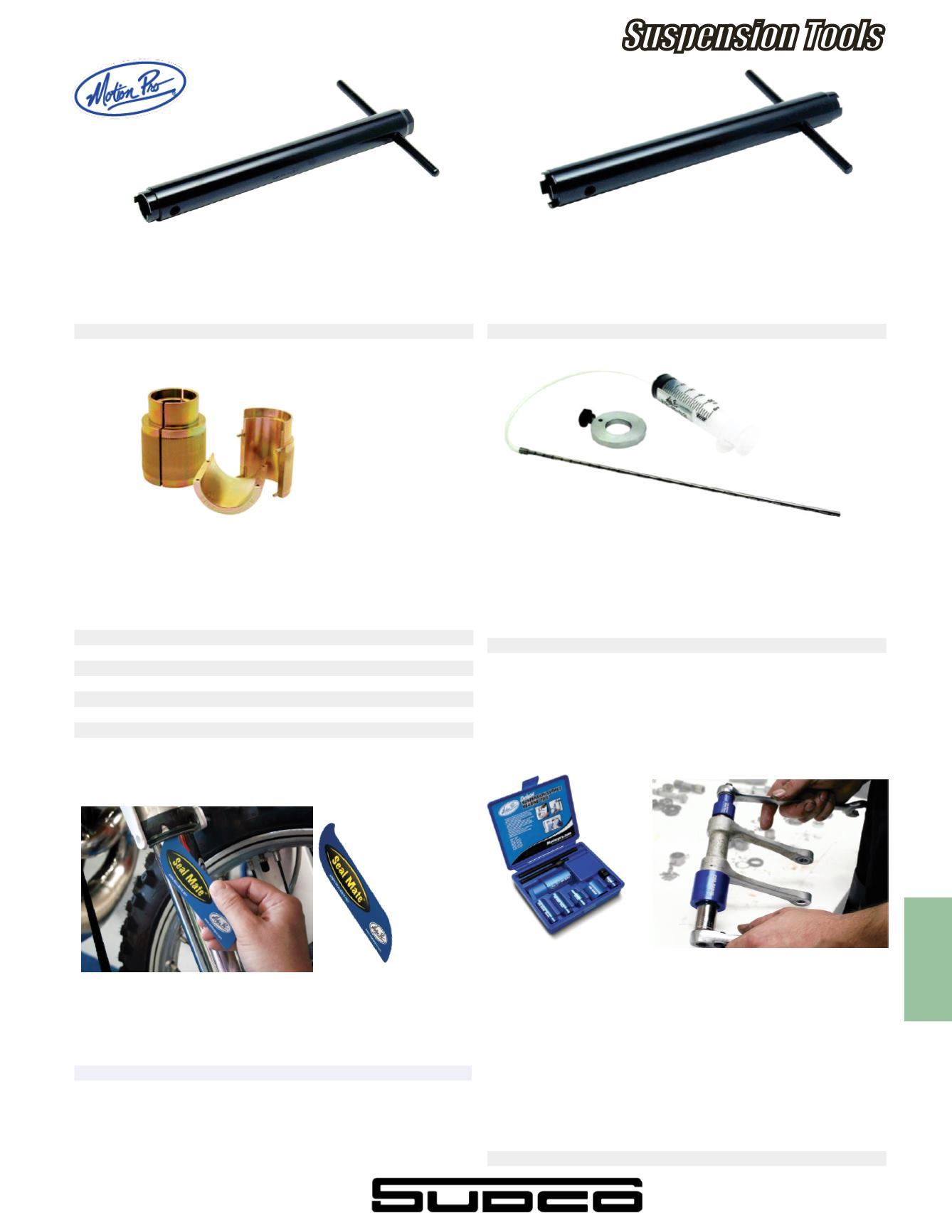 Motion Pro Fork Seal Drivers
Manufactured from CAD-II plated carbon steel and features a split
design. Each driver weighs approximately 25oz.
Sold individually.(Split as shown in photo)
Made in U.S.A.
Motion Pro Damper Rod Fork Tool
Aids in assembly and disassembly of most inverted Kayaba and Showa
41mm, 43mm, 46mm, and 47mm forks. Use one end for Kayaba forks
and the other for Showa forks. (Not required for 91-92 Honda CR models)
Hardened steel with black finish.
Motion Pro Combination Fork Damper Tool
Designed to hold the damper rod during assembly & disassembly of
Honda XR400's or Suzuki DR-Z400S. One end features spanner-type
prongs for the XR400 and the other a 27mm hex for Suzuki. Hardened
steel with black finish.
Seal Mate
Easy way to keep your fork seals clean and debris free.
Extract dirt and debris trapped between fork seal and tube.
Works on most conventional and up-side-down forks.
Size
Order No.
39mm
950-392
41mm
950-393
43mm
950-394
45mm
950-395
46/47mm combo
950-396
48mm
New!!
950-769
49/50mm combo
950-397
Order No.
950-399
Order No.
950-473
Order No.
950-474
Fork Oil Level Gauge
For checking and adjusting the oil level on all conventional and single
chamber cartridge forks, adjustable ring will measure oil levels from 0
to 300mm in 0.5cm increments, syringe has a capacity of 60ml, can be
used on bicycles equipped with front suspension, also replaces HD tool
HD-590000-B and Buell tool B-590000-B
Order No.
950-770
Deluxe Suspension Bearing Service Tool
NEW
Designed for quick and easy removal and precise installation of
suspension linkage and swing arm pivot bearings. For use on 20 & 22
mm id bearings. Fits most off-road motorcycles & ATV's. Includes blind
bearing collet for removal of 20 mm blind bearings. Anodized aluminum
mandrels reduce the possibility of damaging bearing surfaces. Laser
etched markings for easy size identification. Eliminates the need for a
shop press. Includes protective blow-molded case for easy storage. A
must have time saving tool for professional technicians, serious racers
and home mechanics.
Order No.
950-787
Suspension Tools
V
intage
i
ntake
e
ngine
S
uSpenSion
C
ontrol
e
leCtriCal
C
hemiCal
t
oolS
W
aterCraft
507
WEB:
WWW.SUDCO.COM
E-MAIL:
SUDCO@SUDCO.COM