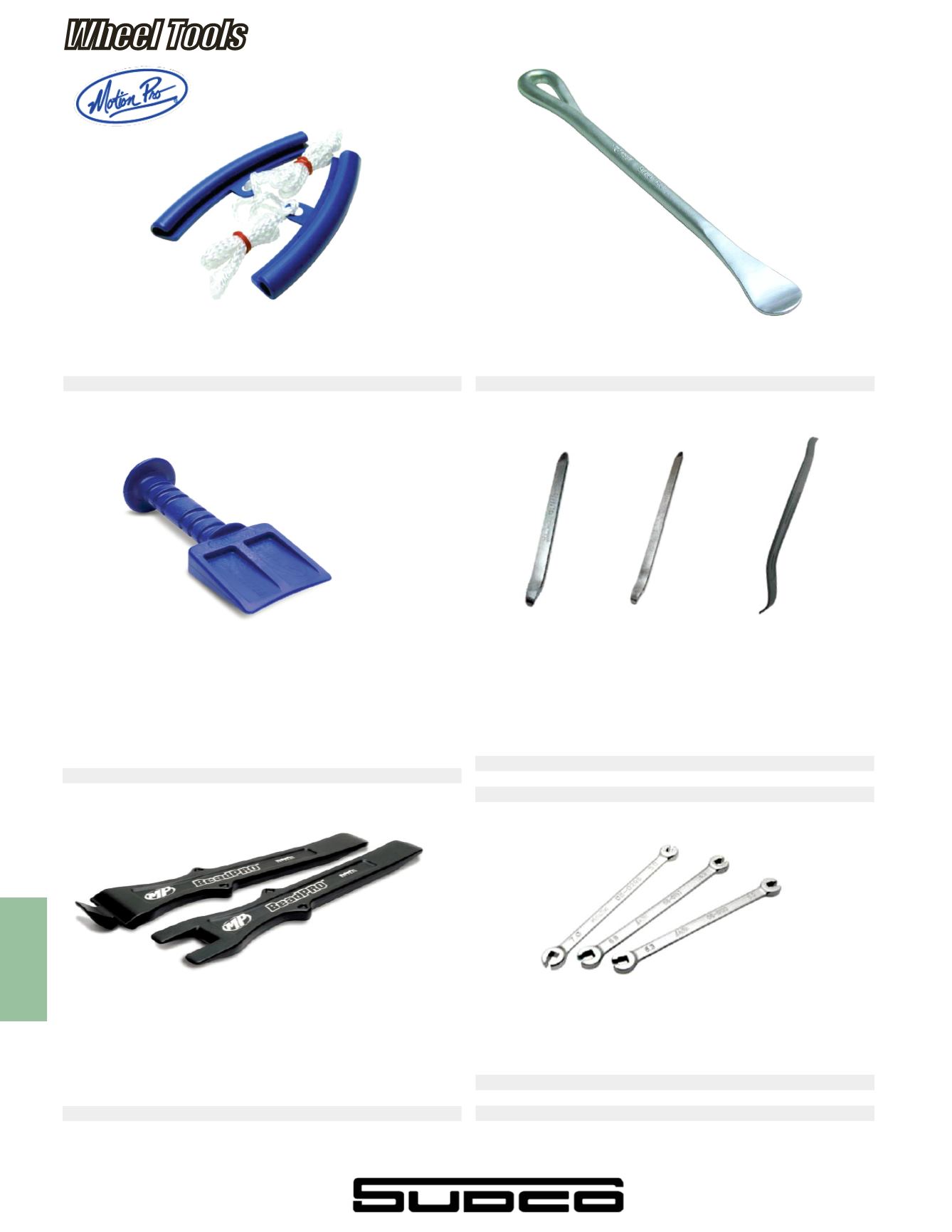 Rim Protectors
Protects your wheel from scratches and dings caused by tire changing
tools. Retrieval cords are included for easy use
Order No.
950-752
Bead Popper ™
Designed for breaking the bead on road and off-road motorcycle tires,
great for the shop, trail or on the road, Compact and lightweight (only
3.7 oz) stores easily in your emergency tool pack or tool box, can be
used with the wheel on or off the motorcycle, will not scratch the wheel,
easier and more convenient than press or lever tools, made of a durable,
high-impact plastic, Not for use on ATV tires
Order No.
950-751
Spoon Tire Iron
Curved end fits securely in the hand. Hard nickel pewter finish 10" long
and weighs 4.2oz. Sold each.
Order No.
950-746
Standard Steel Tire Irons
Cold forged steel. Ideal for shop or home use. Tire Iron Set Includes
one 8-1/2 inch tire iron, one 11 inch tire iron and one 16 inch double
compound curved tire iron, and a vinyl storage pouch. Tire irons
available separately. (Each)
Description
Order No.
Tire Iron Set
950-747
8-1/2" Tire Iron (each)
950-748
11" Tire Iron (each)
950-749
16" Tire Iron (each)
950-750
Description
Order No.
6mm/6.3mm
950-753
6.5mm/6.8mm
950-754
5mm/7mm
950-755
Spoke Wrenches
Chrome-vanadium tool steel with a hard nickel pewter finish, square end
openings which grip the spoke nipple on all four sides, offset slotted ends
make it easy and quick to use. Sold each.
BeadPro Tire Bead Breaker and Lever Tool Set
Innovative multi-use tire tool set. Breaks the bead on most street
and off road motorcycle tires. Integrated tire spoons for tire removal
and installation. Light weight and compact size is perfect for tool packs.
Ergonomic handles with cross-guard keep hand from riding forward.
Forged 7075-T6 aluminum construction for strength and durability Black
anodized finish. Patent pending.
Order No.
950-788
950-755
950-754
950-753
950-748
950-750
950-749
Wheel Tools
W
aterCraft
t
oolS
C
hemiCal
e
leCtriCal
C
ontrol
S
uSpenSion
e
ngine
i
ntake
V
intage
506
ORDER: 800-998-3529
TECH: 310-637-8330