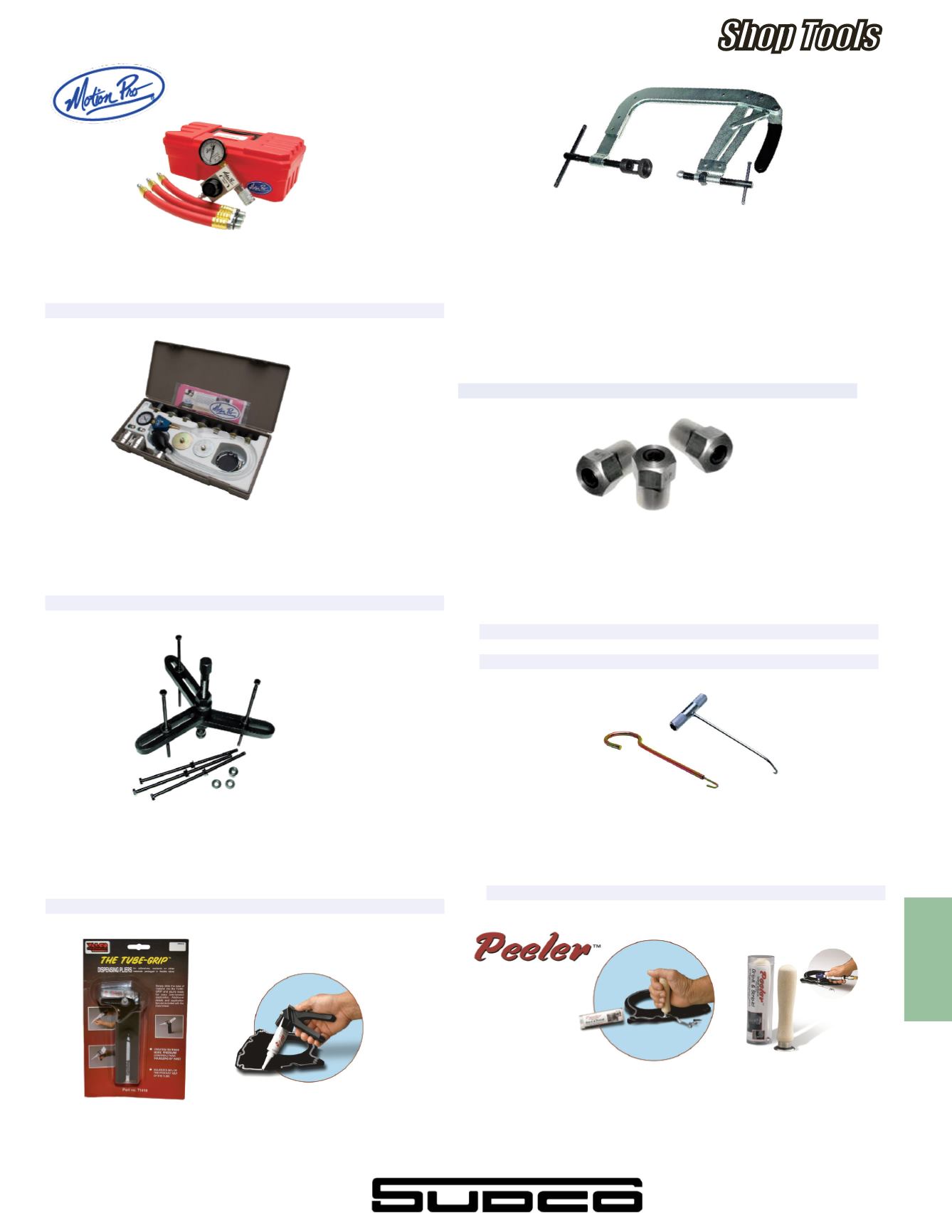 Motion Pro 4-Stroke Leakdown Tester
Checks percentage of cylinder leakage in a 4-stroke engine. Tester
includes 10, 12, and 14mm spark plug adapters, regulator and gauge.
Motion Pro Crankcase Splitter
Works on most 2 & 4-stroke motorcycle engines with vertical split
cases. Unique design eliminates binding under heavy loads. Movable
fingers allow a multitude of bolt patterns to be used. Includes 6mm &
8mm mounting bolts.
Motion Pro 2-Stroke Leakdown Tester
Designed to check for air leaks in 2-stroke engine. Tester includes
air pressure gauge, pump-up bulb and most fittings and adapters
for single and twin cylinder 2-stroke motorcycle engines. Packed in
a convenient carry box, complete with instructions.
Order No.
950-401
Order No.
950-479
Order No.
950-400
Motion Pro Valve Spring Compressor
Improved quick action design, used in same applications as
Honda tool 07757-0010000 and Kowa tool AKS-215-1010 OEM
tools. Accepts Motion Pro adapters (08-0248) as well as Honda OEM
adapters 07GME-KT70200, 07JME-KY20100, and 07959-KM30101.
For use in shim under bucket and small diameter valve spring keeper
applications, both cup-type and ball-type tips are included. Adapter on
compressor is double stepped. The inner step diameter is
17mm - Outer step diameter is 21mm.
Order No.
950-772
Motion Pro Stud Installation Tools
These hex head stud tools allow installation of cylinder studs
on most motorcycle applications without damaging the threads.
Hex head is 3/4" or 19mm. Sold each. Order by size needed.
Made in the USA.
Description
Order No.
6 x 1.0mm
950-456
8 x 1.25mm
950-457
10 x 1.25mm
950-458
Motion Pro Spring Hooks (Pullers)
Use to remove exhaust pipe springs, seat or tank holding springs,
cotter pins, side stand springs and other parts. Sold each.
Description
Order No.
Standard Spring Tool
950-725
Heavy Duty T-Handle Spring Hook
950-726
Shop Tools
Valco The Peeler™
The Peeler is very effective at removing silicone gasket material, paper or iber
gasket residue. It features a short, easy-to-hold handle for close, powerful con-
trol of the blade. The steel blade can be easily replaced. The Powered Peeler
is available for air-ratchet and powered screw drivers It its 9/16" sockets.
Valco The Tube-Grip®
The Tube-Grip maximizes the usage of any material packaged
in a lexible tube.
V
intage
i
ntake
e
ngine
S
uSpenSion
C
ontrol
e
leCtriCal
C
hemiCal
t
oolS
W
aterCraft
501
WEB:
WWW.SUDCO.COM
E-MAIL:
SUDCO@SUDCO.COM