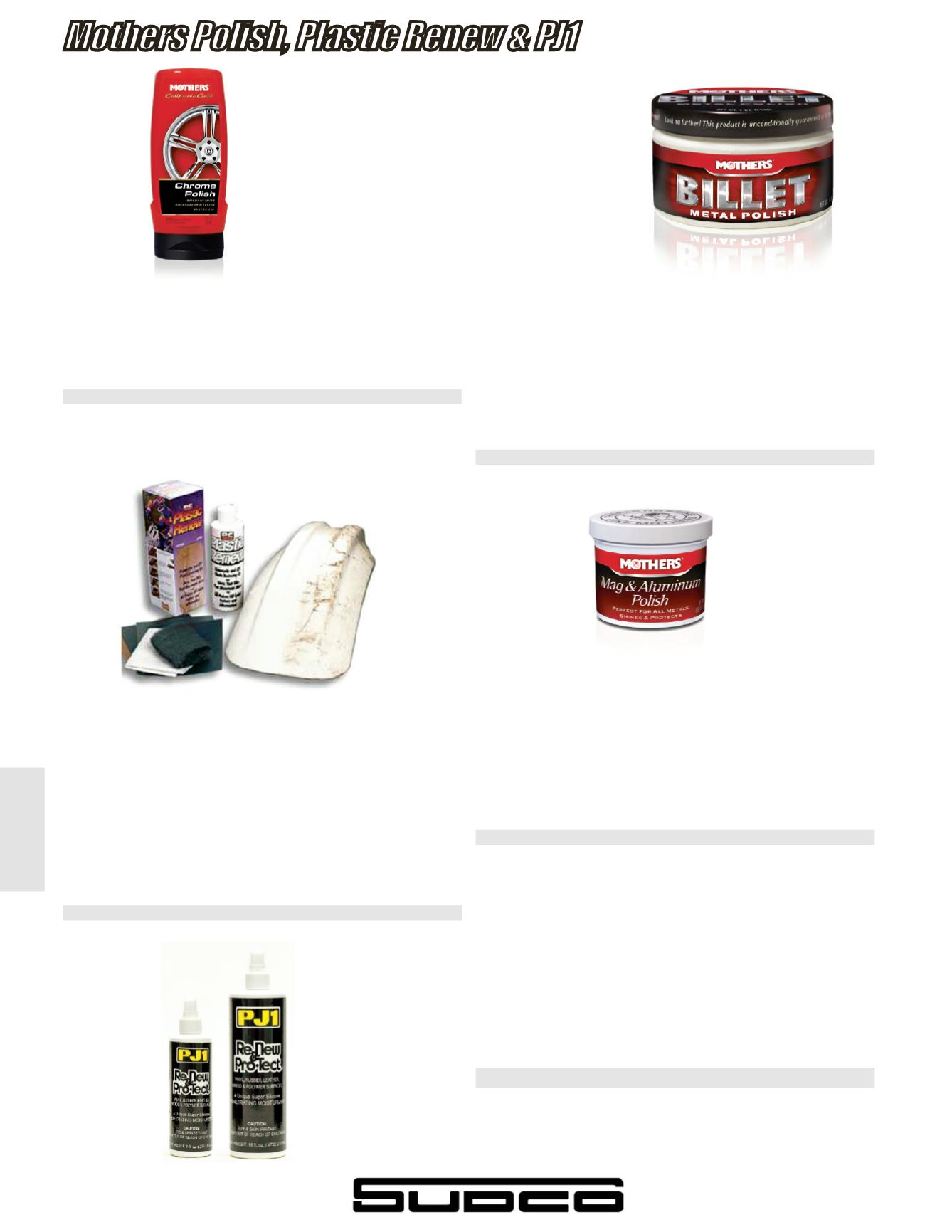 Mag & Aluminum Polish
This is Mother's legendary metal polish. Mother's secret formula
balances a brilliant shine with easy use for aluminum wheels and parts,
brass, alloys and accessories. Application is just a matter of a clean
cloth and a little elbow grease. Mothers Mag & Aluminum Polish is strong
enough to put a shine to the most neglected metals and gentle enough to
use on a regular basis. Sold in 5 oz. tub.
Order No.
800-710
Billet Metal Polish
Mothers Billet Metal Polish takes our world famous metal polish technology
to a whole new level. State of the art cleaners and cutting edge formulation
give your billet, forged and finely cast aluminum, brass and other polishable
metals the absolute finest finish available-guaranteed. If you've spent big
bucks on quality metal accessories, step up to a polish worthy of your
investment. When using Billet Metal Polish on aluminum, a black residue
should appear on the applicator. If it doesn't, stop polishing immediately.
The metal is probably clear coated and should be maintained with Mothers
Clear Coat Wheel Polish. Sold in 4 oz. tub.
Order No.
800-712
California Gold Chrome Polish
Thick, rich and easy-to-use, gently deep cleans and brightens chrome
bumpers, wheels, trim and accessories, advanced polymers help
protect against fingerprints, spotting, rust and corrosion, polish will not
streak, scratch or smear, safely cleans and protects glass and mirrors
Sold in 12 oz bottle
Order No.
800-716
Plastic Renew
TM
• ATV and motorcycle plastic restoring
• Gives your ATV or motorcycle that showroom shine
• Restores at least four complete bikes and two ATV's
• Works on any color
Plastic Renew is a complete plastic restoring kit. 3 to 4 coats of Plastic
Renew™ brings out the brilliant color and shine of new plastic. With
Plastic Renew™, you don't have to worry about building up or discoloring.
This product will not come off from normal washing. If your plastic gets
scratched again, just follow the same procedure to restore that like-new
shine. Typical motorcycle restoration will only require about one-quarter
and ATV about one-half the chemical in this kit.
Order No.
945-090
PJ1 Renew and Protect
Non oily surface treatment for plastic, vinyl,wood, treated leather and rubber
• Ideal for seats, tires, plastic body parts, etc.
• Unique super silicone formula provides a penetrating moisturizer
• Restores original appearance
Available in 8 fl. oz. and 16 fl. oz. bottle
Description
Order No.
8 fl. oz. bottle
899-090
16 fl. oz. bottle
899-091
Mothers Polish, Plastic Renew & PJ1
W
aterCraft
t
oolS
C
hemiCal
e
leCtriCal
C
ontrol
S
uSpenSion
e
ngine
i
ntake
V
intage
482
ORDER: 800-998-3529
TECH: 310-637-8330