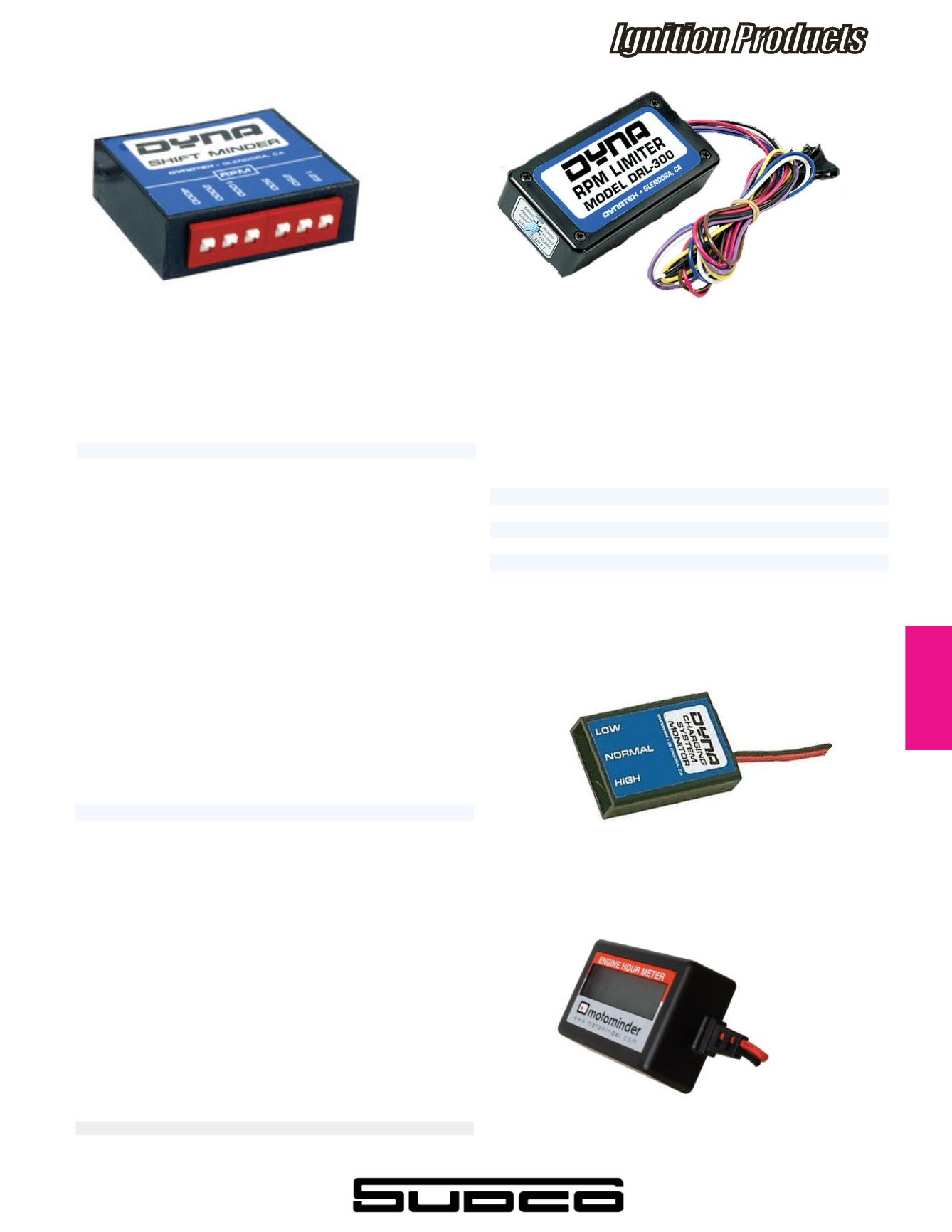 Dyna Voltage Monitor
The Dyna Voltage Monitor is a necessity for any battery ignition vehicle
which does not have a charging system. "Total Loss" ignition systems are
typical of racing bikes and race cars that depend on the battery voltage
only for proper operation. The Voltage Monitor will give a clear indication
of battery condition with a quick glance at the three LED indicators. Sold
each.
Dyna RPM Limiter
Dyna Rev Limiters effectively prevent your engine's rpm from
exceeding a
per-determined
limit that is totally user adjustable
DRL-200/300 - A single high RPM limiter continuously adjustable
from 6,000 RPM to 12,000 RPM. DRL-400 - A two stage launch RPM
limiter and high RPM limiter which is clutch switch activated. Launch
limit is adjustable from 3,000 RPM to 10,750 RPM and over rev limit
is adjustable from 10,000 RPM to 13,750 RPM. Both ranges are
adjustable in 250 RPM increments. All Dyna RPM Limiters carry a
1 year factory warranty. Sold each.
Description
Dynatek No.
Order No.
Inductive RPM Limiter
DRL-200/300
618-795
(upgrades the DRL-200)
Magneto CDI RPM Limiter
DRL-300CDI
618-794
2 Stage Rev Limiter
DRL-400
618-796
2 Stage Rev Limiter H-D
DRL-400HD
618-797
Dyna Shift Minder System
Ruggedly constructed and rigorously trade tested for bullet-proof reli-
ability.
The Dyna Shift Minder System consists of a shift light
and a
control module. Adjustable to any of the 64 different RPM settings with a
125 RPM increment between settings. This
control module can also be
used to activate other systems, such as an air shifter
solenoid or nitrous injection system. Sold each.
Dynatek No.
Order No.
DSMS-4 (4-cylinder models.)
618-811
DSMS-2 (2-cylinder models)
618-810
Dynatek No.
Order No.
DVM-1
618-801
Automatically records and displays your engines accumulated run
time, so oil changes, piston, rings, valves, spark plugs, etc. can be
serviced at the correct maintenance schedule. The correct schedule saves
costly engine damage from service neglect. Motominder can
also save money from servicing too frequently. The smallest engine
hour meter available (approximately 1" x 1.5") doesn't require additional
mounting bracket and can be easily mounted by the peel and stick method
to the frame or other convenient area. PC Racing is so confident that
motominder is the most reliable engine hour meter available. It is backed
by a 2-year manufacturer's replacement warranty.
Works with all Gas Engines.
PC Racing Engine Hour Meter
PC Racing No.
Order No.
PCMM1
945-130
Ignition Products
477
WEB:
WWW.SUDCO.COM
E-MAIL:
SUDCO@SUDCO.COM
V
intage
i
ntake
e
ngine
s
uspension
c
ontrol
e
lectrical
c
hemical
t
ools
W
atercraft