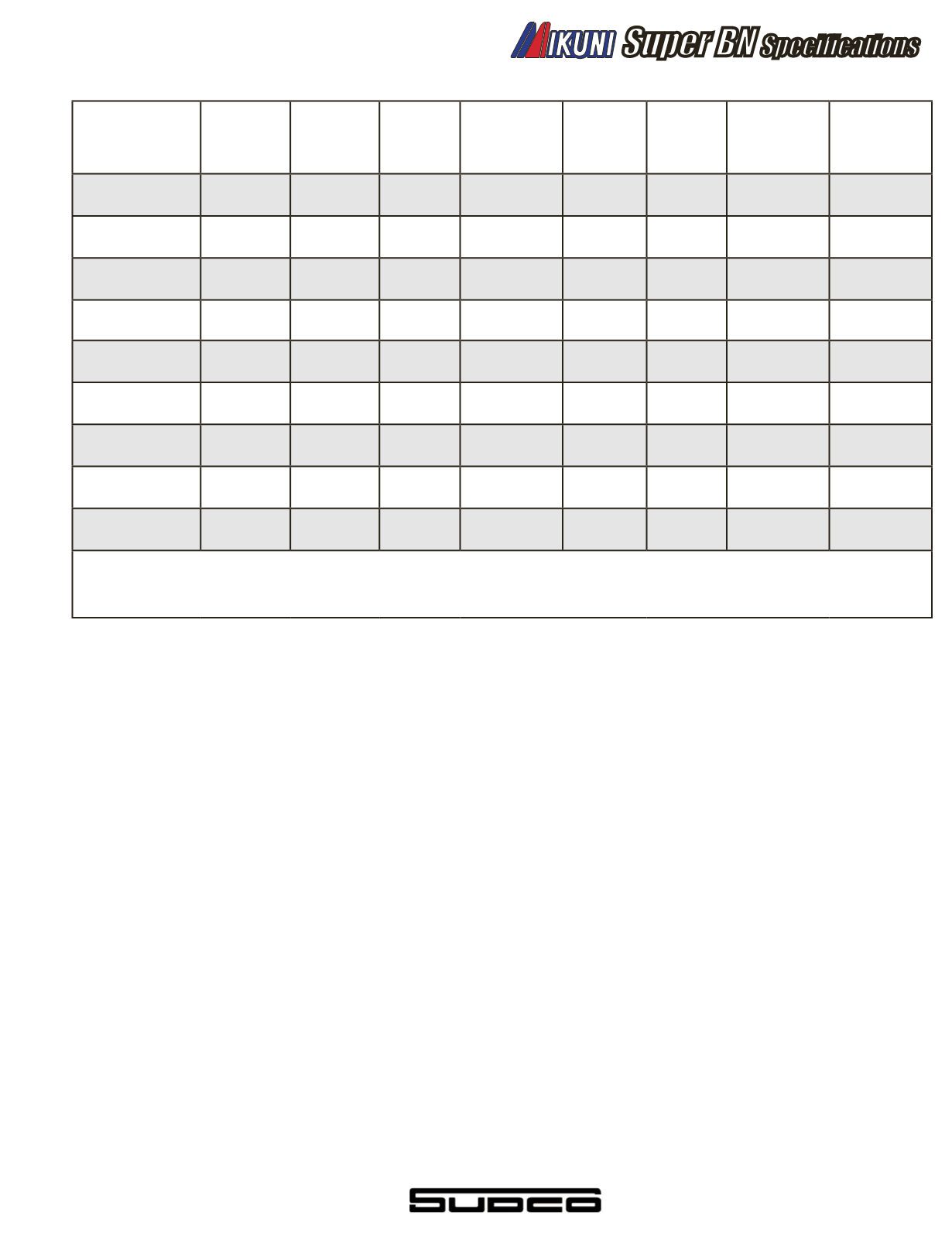 Super BN
Specifications
Performance Tips - The "Left Turn
Syndrome"
You will ind all instances that your watercraft will turn more
easily to the right than to the left. The reasons are basically simple,
First, engine torque constantly places pressure on the hull to turn
right.
If your engine's performance is marginal, you can notice a
dramatic fall-off in power in a hard turn. This power fall-off can't al
-
ways be blamed on the engine. Being over-propped can also cause
the engine to slow enough to fall off its power peak. An engine with
a peaky power curve is especially susceptible to a very dramatic
power loss in a hard left turn.
Most recently, with the increase of Sport about racing,
there has been a marked improvement in hull design with a
dramatic increase in "G" forces encountered while turning: over 2.5
G's. In some instances, such a hard turn can cause a momentary
loss of power due to fuel starvation in the carbs. Jetting changes
cannot correct this situation, the best solution is to rotate the mount
-
ing of the carbs 90˚, so that their throttle shafts are perpendicular to
the crankshaft axis rather than parallel. To date, this solution to
the problem has been 100% successful.
Fuel Dripping from the Inner Venturi at Idle
This solution occurs periodically and is easy to cure. What
causes this problem is a combination of two things. First, low po-
off pressure (due to installation of a 2.5 needle valve with a light
spring pressure) together with an engine that has a substantial
vibration at idle.
The engine vibration causes the needle valve to leak, which
causes the engine to run even rougher. You can view this occurrence
by carefully looking into the throat of the carb at idle, you will be able
to see the fuel dripping from the inner venturi. In this same way you
can also check to see that the problem is corrected. The cure for the
problem is to increase pop-off pressure until the dripping stops.
Engine hesitation when accelerating after a
high speed deceleration
You may ind it desirable to increase the number of
anti-siphon valves (part no. BN34/107), If you ride very fast and ind
that you have a noticeable stumble when re-opening the throttle after
a long, high speed deceleration. This is caused by excess fuel in the
carb.
The engine revs fairly high while decelerating, but it uses
very little fuel. The fuel pump still pulses hard, but there is no demand
for the fuel. A small amount of fuel will overill the fuel chamber, leak
through the high speed circuit and get deposited on top of the closed
throttle valve. This fuel causes a momentary rich condition when the
throttle is re-opened.
The solution is to use one or two additional anti-siphon
valves. Never use more than two extra, and recheck your calibration
after installing any extra valves; in some cases extra valves can
adversely affect throttle response.
Carb
Low
Speed
Jet
High
Speed
Jet
Needle
Valve
Arm
Spring
(grams)
Low
Speed
Adjuster
High
Speed
Adjuster
Choke
or
Primer
Color
BN45-42-8002# 120
150
2.5
80gr.
1.0
1.5
Primer
Silver
BN44-40-8067# 120
140
2.5
00gr .
1.0
1.5
Primer
Silver
BN44-40-8052# 100
125
2.3
65gr.
1.0
1.5
Primer
Black
BN44-40-43
120
115
1.5
115gr.
1.0
.75
Choke
Black
BN38-34-8113#
55
107.5
2.0
115gr.
1.0
1.5
Primer
Silver
BN38-34-55-D
65
107.5
2.0
115gr.
1.0
1.5
Choke
Black
BN38-34-8075*
65
107.5
2.0
115gr.
1.0
1.5
Primer
Black
BN38-34-8076*
65
107.5
2.0
115gr.
1.0
1.5
Primer
Black
BN34-28-8010 77.5
80
1.5
165gr.
1.25
.75
Choke
Black
# Denotes carbs that have extended throttle shafts and can be coupled together as duals.
* Denotes carbs that are designed to be used as a set and can only be used as duals.
555