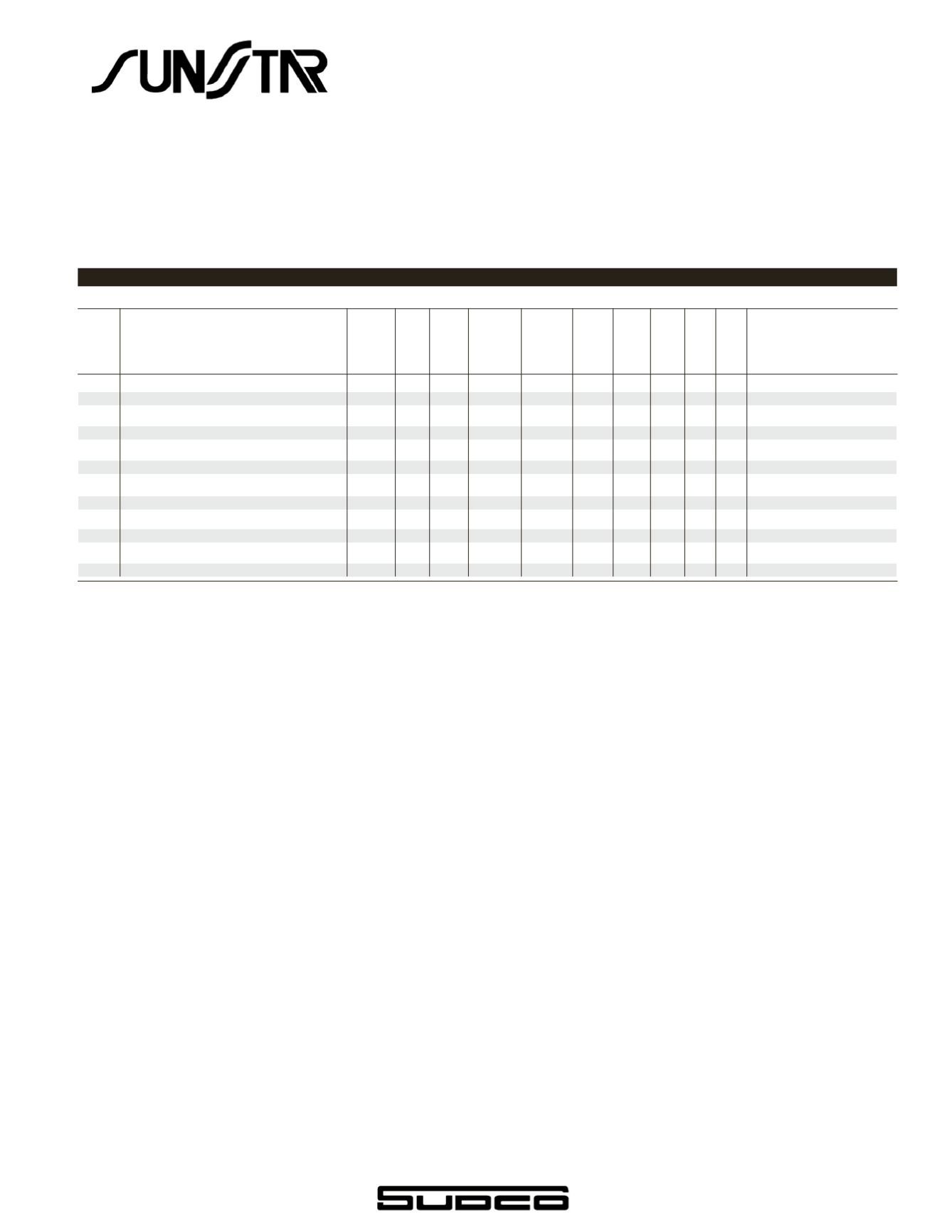 CHAINS
Length
Options
Chain
Model
Description
CHAINS
Ring
Type
Color
Option
Link
Type
Max CC
Street /
Off Road
Tensile
Strength
(lbs)
Weight
/ 100L
(lbs)
Pin
Length
(mm)
Inner
Plate
Thick-
ness
Outer
Plate
Thick-
ness
Recommended
Application
Examples
* indicates gold outer, non-gold inner plates
** indicates gold outer & inner plates
Recommended applications not full list but just a small sample of suggested model types per chain
Sealed Ring Types:
SSR = Standard Sealed Ring (Normal O-Ring)
DG = DualGuard (2 sealing lips & lubrication pools per side)
TG = TripleGuard (3 sealing lips & lubrication pools per side)
Sunstar Manufacturer Recommendations
* All chains should be installed by a certiied mechanic, using the proper installation tools. Chain adjustment should be done per the bike maker's
owner's manual instruction.
* Always check sprocket alignment when installing new drive components & during routine maintenance & adjustment; mis-aligned sprockets are
detrimental to the life of the drive system.
* It is always recommended to replace your chain with the same size (pitch) and type of chain (sealed or non-sealed) that originally came on the
motorcycle from the factory.
* Avoid using volatile solvents such as gasoline, thinners and/or benzine; it is best to consult with your local dealer before using any cleaners and/
or lubricants.
* For best results and the longest life possible replace all drive components (sprockets & chains) at the same time (preferably using both Sunstar
chain & sprockets).
520HDN 520 Heavy Duty Non-sealed Motorcycle Chain
114 & 120
None NonGold Clip
NA / 250
7,900
3.15
18.15
2.00
2.00
CRF150F, KDX200, RM125, TTR230
520SSR
520 Standard Sealed Ring Motorcycle Chain
100 & 120
O-ring NonGold Clip (press it) 400 / 400
7,700
3.35
19.90
2.00
2.00
WR250F, KLX300R, XR400R
520XTG 520 Works XtremeTripleGuard Sealed Ring Motorcycle &ATV Chain 100 & 120
TG
Gold *
Clip (press it) 400 / 750
8,500
3.77
20.80
2.00
2.00
CRF450X, TRX450R, YZ450F, KLX450R
520MXR1 520 Works Motocross / Supercross Non-sealed Motorcycle Chain 116 & 120
None
Gold ** Clip
NA / 500
9,000
2.99
17.70
1.80
2.00 CRF250R, RM-Z450, KX450F, 125SX, YZ250F
520RDG 520 Road DualGuard Sealed Ring Motorcycle Chain
114 & 120
DG NonGold Rivet
750 / 750
8,500
3.36
19.90
2.00
2.00
CBR600RR, KLR650, XV250
525RDG 525 Road DualGuard Sealed Ring Motorcycle Chain
112 & 120
DG NonGold Rivet
900 / 750
8,850
4.30
22.85
2.40
2.30
VT750, ZZR600, DL650, YZF-R6
530RDG 530 Road DualGuard Sealed Ring Motorcycle Chain
110 & 120
DG NonGold Rivet
1000 / 750 9,500
4.48
24.90
2.40
2.30
CBR600F2, KZ650, GSF600S, FZ-6
520RTG1 520 Works Road TripleGuard Sealed Ring Motorcycle Chain 116 & 120
TG
Gold ** Rivet
1000 / 750 8,800
3.75
20.80
2.20
2.20
CBR600RR, ZX-6R, GSX-R750, YZF-R6
525RTG1 525 Works Road TripleGuard Sealed Ring Motorcycle Chain 120
TG
Gold ** Rivet
1100 / 800 9,300
4.30
22.85
2.40
2.30
DL650 Vstrom, GSX-R750, ZX-9R, ZX-10R
530RTG1 530 Works Road TripleGuard Sealed Ring Motorcycle Chain 116 & 120
TG
Gold ** Rivet
1400 / 900 10,000
4.63
24.90
2.40
2.40
ZX-14R, GSX1300-R, YZF-R1
420MXR 420 Works Motocross / Supercross Non-sealed Motorcycle Chain 126
None
Gold ** Clip
150 / 150
5,000
1.76
15.70
1.80
1.45
CRF80F, KX80/85, DR-Z110, PW80
428MXR 428 Works Motocross / Supercross Non-sealed Motorcycle Chain 134
None
Gold ** Clip
250 / 150
5,800
2.13
17.60
1.80
1.80
CRF100F, KLX140/L, RM85, YZ85
560