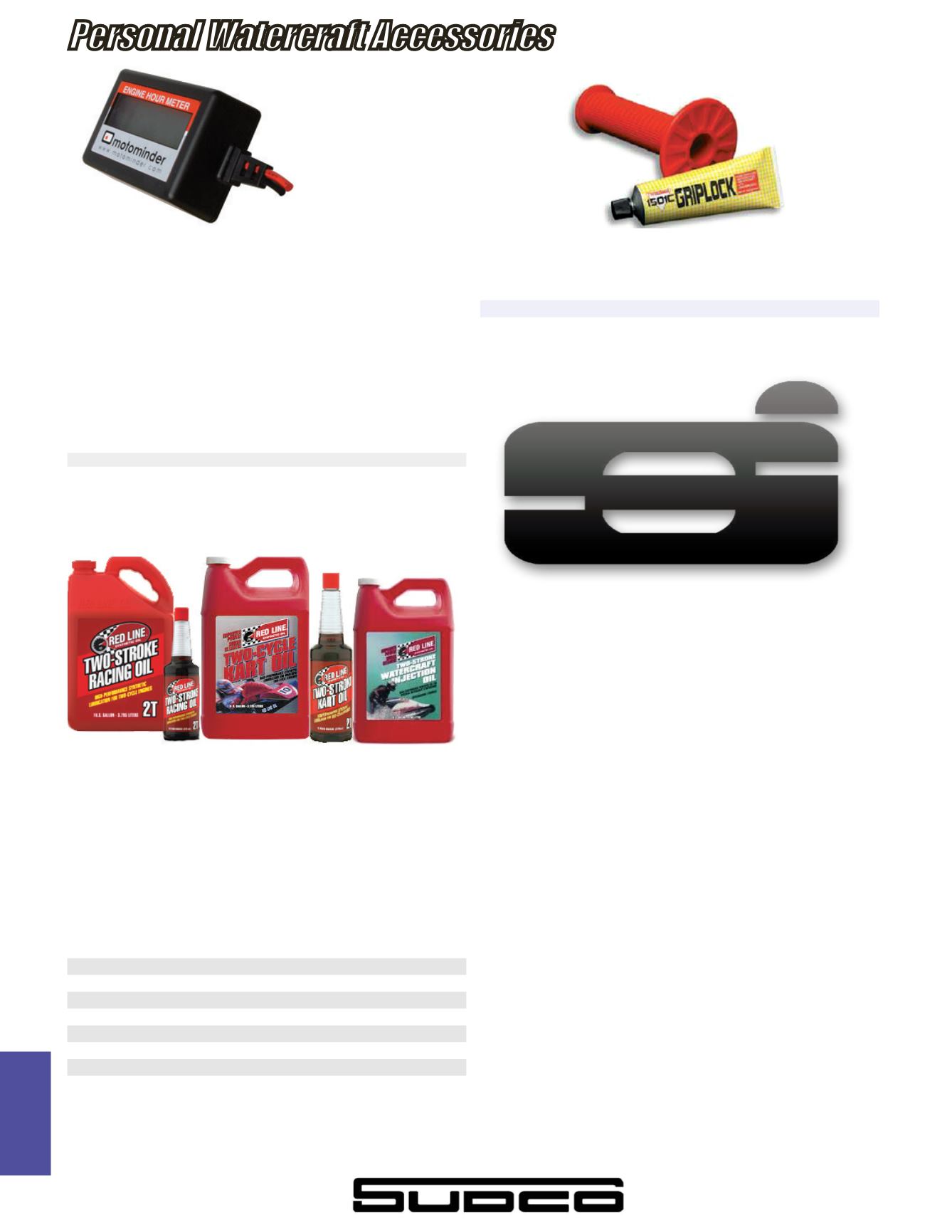 Three Bond Griplock TB1501C
Keeps grips in place without damaging the rubber.
Sold in 1 oz. tube.
Order No.
800-155
Automatically records and displays your engines accumulated run time,
so oil changes, piston, rings, valves, spark plugs, etc. can be serviced
at the correct maintenance schedule. The correct schedule saves costly
engine damage from service neglect, but Motominder
can also save money from servicing too frequently. The smallest
engine hour meter available (Approximately 1" x 1.5") it doesn't require
additional mounting bracket and can be easily mounted by the peel
and stick method to the frame or other convenient area. PC Racing is
so confident that motominder is the most reliable engine hour meter
available that it is backed by a 2-year manufacturer's replacement
warranty. Works with all Gas Engines.
PC Racing Engine Hour Meter
Description
Order No.
PCMM1
945-130
Two-Stroke Racing Oil
Red Line's popular two-stroke lubricants contain base oil which have the
highest film strength and greatest affinity for hot metal. Because Red
Line is a superior high temperature lubricant, it can be used at lower fuel
to oil ratios, increasing power and providing excellent scuff protection and
cleanliness. Where many two-stroke oils are recommended to run 32:1,
many Red Line customers often mix at a leaner
40:1. Red Line provides the lubricating cleanliness, with low carbon
residue that dramatically reduces plug fouling and smoke. Red Line
provides special protection for formulated fuels. Dyno proven to make
more power over longer periods of operating time.
Sold in 16 oz. and gallon bottles.
Description
Qt
Order No.
2-Stroke All Sport
16 oz
900-833
2-Stroke Alcohol
16 oz
900-848
2-Stroke Race
16 oz
900-830
2-Stroke Kart
16 oz
900-831
Watercraft & Injection
1 gallon
900-854
2-Stroke Race
1 gallon
900-829
2-Stroke Kart
1 gallon
900-832
Personal Watercraft Accessories
526
ORDER: 800-998-3529
TECH: 310-637-8330
W
aterCraft
t
oolS
C
hemiCal
e
leCtriCal
C
ontrol
S
uSpenSion
e
ngine
i
ntake
V
intage