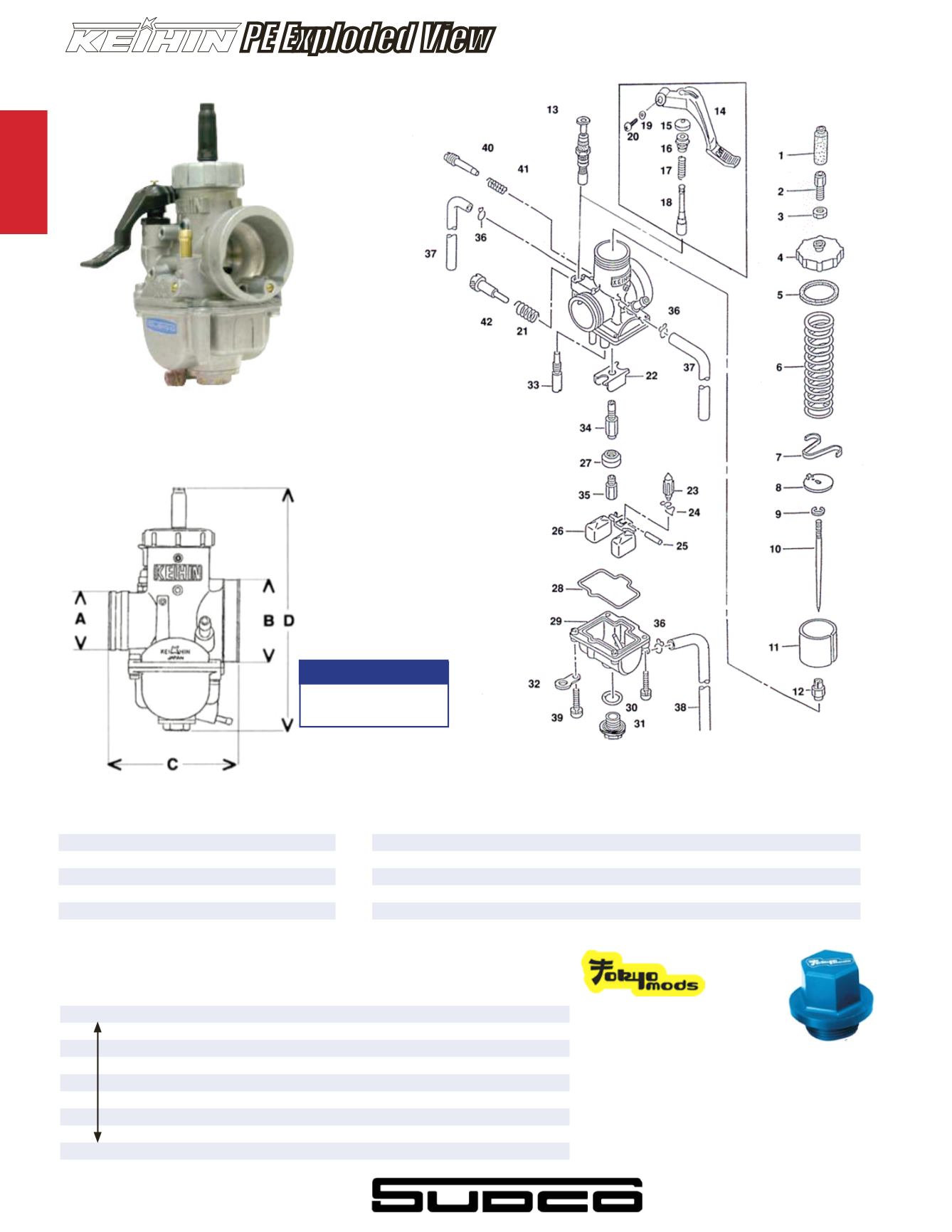 W
atercraft
t
ools
c
hemical
e
lectrical
c
ontrol
s
uspension
e
ngine
i
ntake
V
intage
144
ORDER: 800-998-3529
TECH: 310-637-8330
Cutaway PE20
PE22
PE24
PE38
G1502-QUx-9900 G1502-QHx-9900 G1502-1Sx-9900 G150204G-9900
Rich
2.0
–––––––
–––––––
–––––––
–––––––
2.5
–––––––
–––––––
–––––––
–––––––
3.0
–––––––
–––––––
–––––––
–––––––
3.5
–––––––
–––––––
–––––––
–––––––
4.0
–––––––
–––––––
021-374
021-330
4.5
–––––––
–––––––
–––––––
–––––––
5.0
–––––––
–––––––
–––––––
–––––––
5.5
–––––––
–––––––
–––––––
–––––––
Lean
6.0
–––––––
–––––––
–––––––
–––––––
NOTE:
Do not remove parts that are not shown on this extended view.
Keihin PE Series Carburetor
Whether you want a tunable performance carburetor or a replacement
for your worn out original, the PE series is the right choice.
Available sizes include PE20, 22, 24, 28 and PE38.
PE Throttle Valve Chart
Float Height
See Specifications
Tokyomods Drain Plug
Keeps all fuel contaminates including water
away from the main jet, helps control fuel slosh and
bogging, won't get distorted from over tightening, and
easy to reach for quicker jetting changes. Machined
from 6061 aluminum. Fits Keihin FCR-MX, PJ, PWK,
PWM, and PE carbs.
See page 143 for colors, and order numbers
PE Exploded View
Size (mm)
Main
Slow
Jet
Throttle Float
Keihin
Order
Jet
Jet
Needle Valve
Height
No.
No.
PE20
#100
#58
36S00
4.0
19mm PE20/R69
016-122
PE22
#102
#40
94D00
3.5
19mm PE22/18S
016-123
PE24
#115
#52
36S00
3.0
19mm PE24/S14
016-126
PE26
#142
#40 46JFH
2.0
19mm PE26/78P
016-130
PE28
#125
#40
46-JFN
2.0
19mm PE28/R37
016-127
PE38
#160
#60
48-AJM
3.5
22.5mm PE38/R50
016-124
PE Standard Jetting Specifications
Size (mm)
A
B
C
D
PE20
31
46
83
136
PE22
31
46
83
136
PE24
31
46
83
142.1
PE26
33
48
83
140.5
PE28
35
50
83
150.9
PE38
44
62
95
182.5
PE Carburetor Dimensions