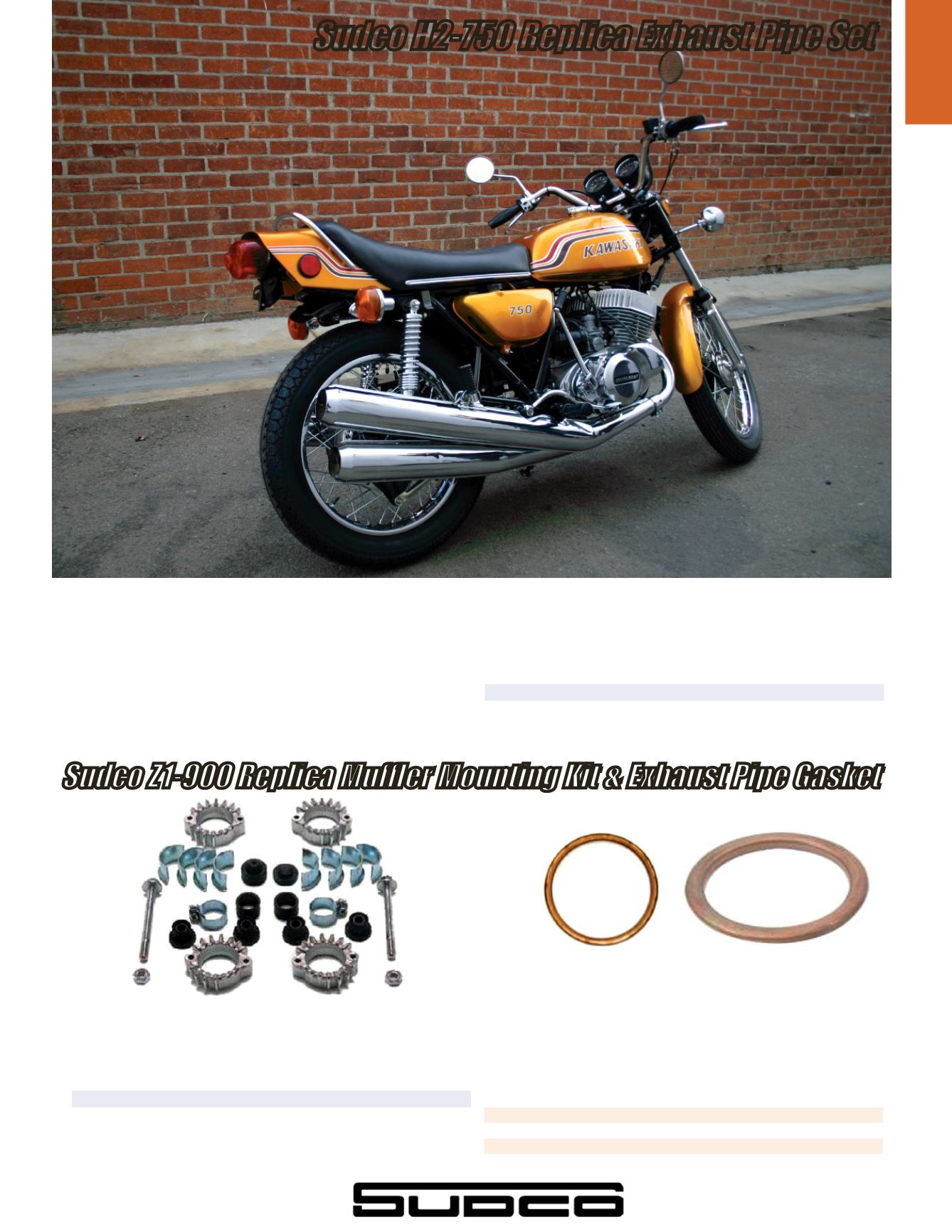 Sudco Z1 Muffler Mounting Kit
Kit includes mounting hardware, clamps, rubber bushings (as shown)
and exhaust pipe gaskets (not shown) needed to install Sudco Z1 replica
exhaust pipe or OEM exhaust pipe.
Order No.
900-565
Order No.
502-702
Sudco H2-750 Replica Exhaust Pipe Set
Replica of the stock H2-750 triple exhaust pipe system. Set includes
3 individual exhaust pipes, mufflers, flanges, and exhaust clamps.
(Gaskets, and hardware not included) Fits H2/A-750 triples from 1972 to 1973.
Exhaust Pipe Gaskets
Exhaust pipe gaskets are sold each. Available for H1-500, H2-750,
and Z1-900 models listed. For other models, see page
292-301
in
Engine section.
Made in Japan.
503-403
Model
Year
Order No.
H1/H1A/H1B/H1C/H1D/H1E-500
69-75
503-403
KH500A8
1976
503-403
H1/H2A/H2B/H2C-750
72-75
503-403
Z1/Z!A/Z!B-900
73-75
503-405
503-405
Sudco H2-750 Replica Exhaust Pipe Set
Sudco Z1-900 Replica Muffler Mounting Kit & Exhaust Pipe Gasket
V
intage
i
ntake
e
ngine
s
uspension
c
ontrol
e
lectrical
c
hemical
t
ools
W
atercraft
3
WEB:
WWW.SUDCO.COM
E-MAIL:
SUDCO@SUDCO.COM