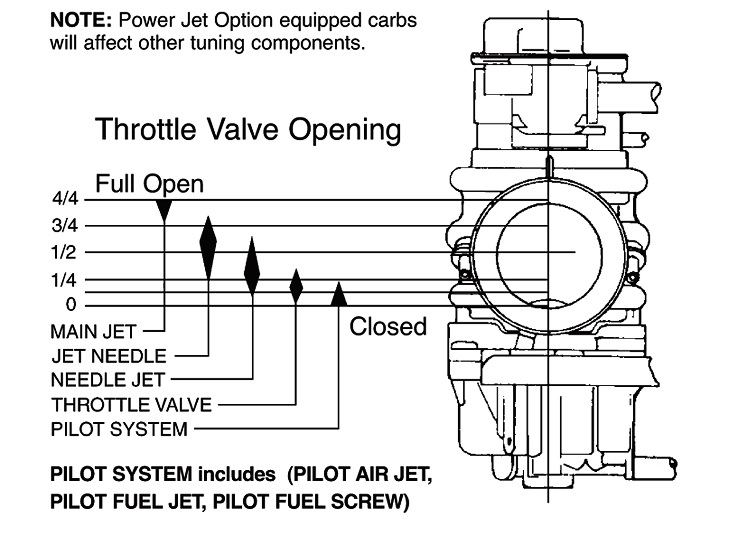 Above: Functional Range Effectiveness of Tuning Parts in Relation to the Throttle Valve Opening
Carburetor Tuning & Jetting
Sudco International carries a complete tuning range of optional jetting for all Mikuni and Keihin Carburetors. Shown in the Above Diagram and below on the Mikuni Catalog Pages are the operational ranges that the different jetting systems (Main Jet, Jet Needle, Needle Jet, Throttle Valve, and Pilot System) work in relation to the throttle slide position as it moves up and down inside the carburetor's throttle bore. As you see on the diagram t is also some cross-over effect between jetting systems, so a jetting change to one system, may also affect the operation of the jetting system next to it.
This basic Throttle Valve Opening Operating Ranges shown above also applies to Keihin Carburetors, but jetting components and sizing are not interchangeable between the two different brands. This section applies only to Street and Off-Road Carburetors, not Personal Watercraft Carburetors. If you are not experienced in Carburetor Tuning, we do suggest that you purchase and read our Sudco Mikuni Tuning Manual to give you a much better understanding of how the motorcycle carburtetor operates, and how it and the engine are diagnosed, the carburetor disassembled, adjusted and tuned for the correct jetting and running.
Sudco Catalog Mikuni Carburetor Jetting Section
Sudco offers a full range of jetting components for both Mikuni and Keihin Carburetors, and Sudco Carburetor Rebuild Kits which include all necessary jetting, gaskets, valves, clips, springs, washers and seals to return a carburetor to like new operating condition.