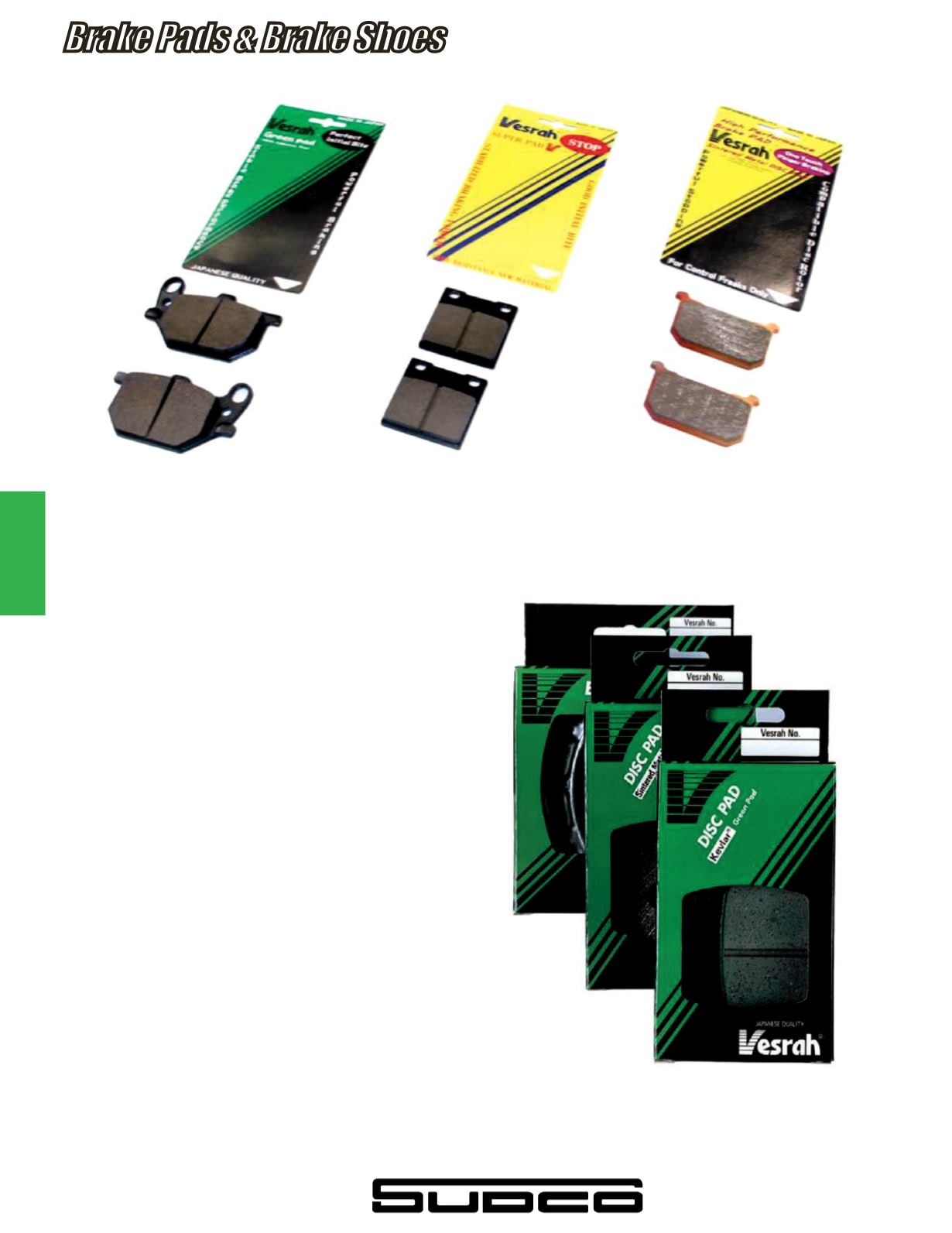 Brake Pads:
All pads have a "610" prefix.
Brake Pad Compounds:
Kevlar/Carbon Pads have a simple 3 digit suffix "610-134".
Sintered Metal Pads have a "JL" after the 3 digit suffix
"610-134JL".
Compound Specification:
Kevlar/Carbon
- Since the elimination of asbestos in the Vesrah
product line, Kevlar has been the standard brake pad material
since 1990. Kevlar/Carbon pads are very temperature stable and
have a high coefficient of friction for sure footed braking under all
conditions, and are stainless steel rotor safe.
Sintered Metal
- The sintered Metal "JL" pads from Vesrah fea-
ture the latest generation of high performance friction materials.
Sintered metal pads are a mixture of copper, tin, graphite and
other materials
resulting in a brake pad with very high performance character-
istics, especially in wet conditions. Sintered pads are stainless
steel rotor compatible.
Brake Shoes:
All shoes have a "611" prefix.
Brake Shoe Compounds:
Standard Kevlar / Carbon Shoes have a simple 3 digit suffix
"611-150" Grooved shoes have an "NS" after the 3 digit suffix
"611-150NS".
Compound Specifications:
Grooved brake shoes offer more consistent performance in wet
conditions and higher friction levels for motocross and off-road
racing than with standard shoes.
How to order Vesrah Brakes from Sudco
Brake Pads & Brake Shoes
448
ORDER: 800-998-3529
TECH: 310-637-8330
W
atercraft
t
ools
c
hemical
e
lectrical
c
ontrol
s
uspension
e
ngine
i
ntake
V
intage