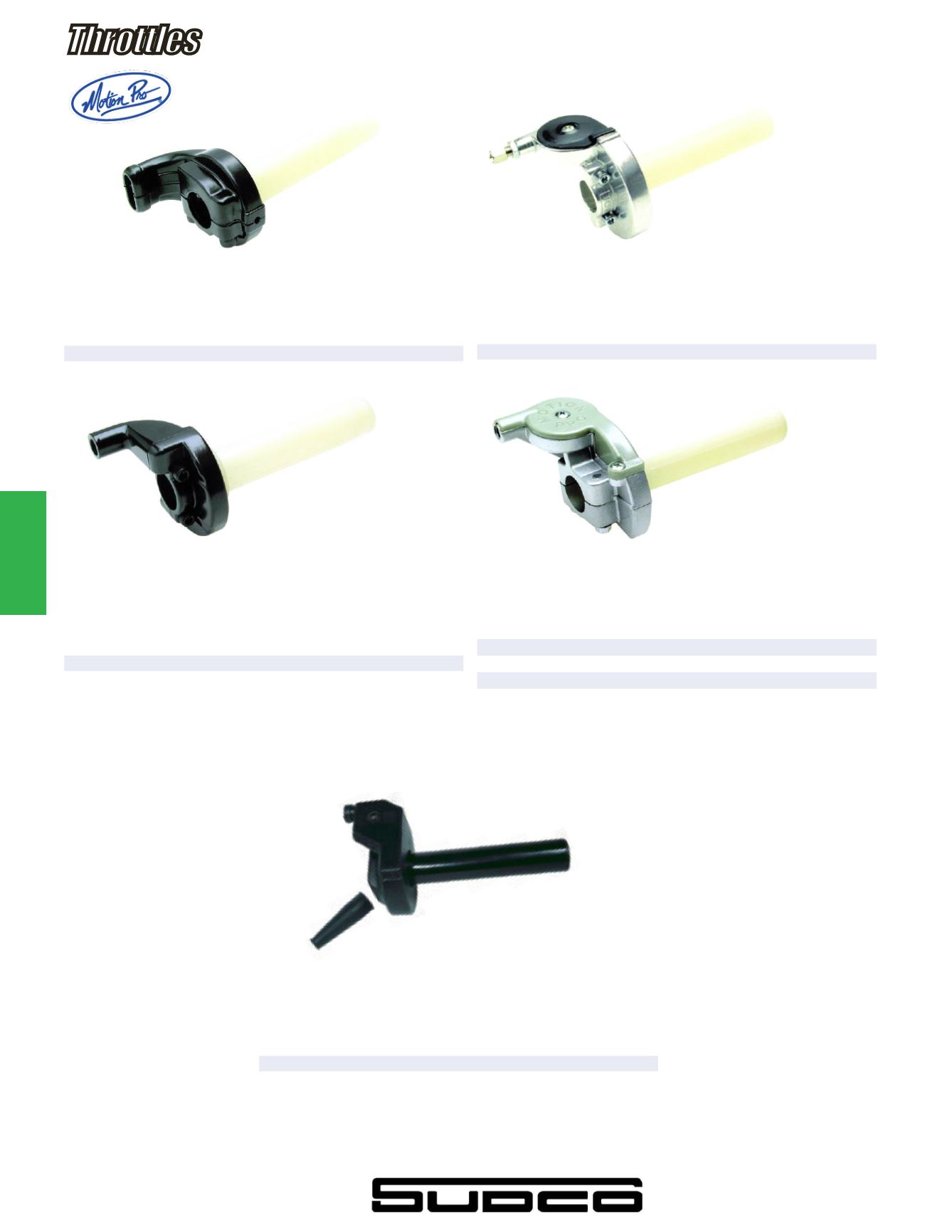 Motion Pro Turbo Throttle
Polished die-cast aluminum housing. Opens 28-38mm carburetors.
Perfect ratio for off-road motorcycles or ATV's. Comes with cable
adjuster and dust boot.
Motion Pro Vortex Throttle
Made from die cast aluminum with a gray finish and gray rubber mud
cover. Similar to most OEM late model Japanese MX/off road bikes.
Motion Pro Straight Push-Pull Throttle
Die-cast aluminum housing with black epoxy finish.
This throttle is similar to Yamaha YZ/WR400, FZR, YZF and XT
dual-sport bikes.
Description
Order No.
Vortex Throttle. Fits Kaw KX125/250 (92-03),
021-951
Suz RM125/250 (95-04) & Yam YZ125/250 (96-04)
Replacement Sleeve for Vortex Throttle.
021-952
Motion Pro CR Pro Throttle
Made from die cast aluminum with a black epoxy finish. Opens 30-34mm
carburetors. Throttle cable will clear brake master cylinder on handlebar.
Early disk-brake Honda CR replacement. Includes throttle sleeve with
grip retaining ring and pop out end.
Magura 314 Straight Pull Throttle
Reinforced polycarbonate housing with a black finish. Adjustable turn
ratio from MX to Enduro in minutes. Includes protective rubber cable
boot. Ideal for MX/off road bikes or ATV's.
Order No.
021-280
Order No.
021-274
Order No.
005-225
Order No.
021-966
Throttles
444
ORDER: 800-998-3529
TECH: 310-637-8330
W
atercraft
t
ools
c
hemical
e
lectrical
c
ontrol
s
uspension
e
ngine
i
ntake
V
intage