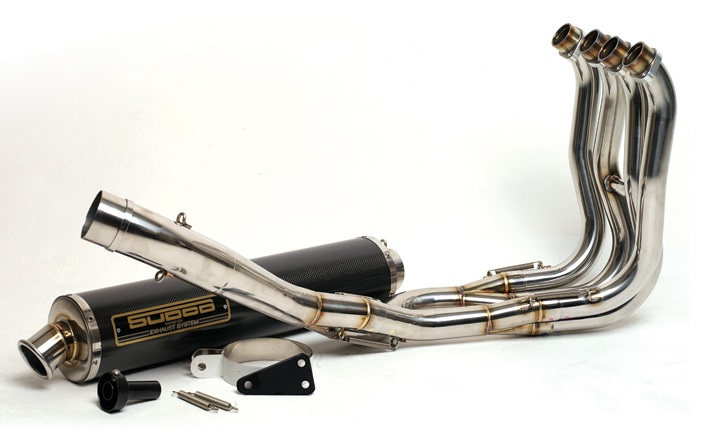 Sudco Full Sportbike Exhaust Systems (above)
Sudco Sportbike Exhaust Systems are made exclusively in Japan by a leding OEM supplier for Sudco international. Systmes feature sturdy Stainless Steel Construction polished to a mirror like finish. They perform as amazing as they look with smooth flowing mandrel bend tubing and 4-2-1 collectors, producing strong mid-range power that carries all the way to redline. Silencing is provided by a beautiful carbon fiber straight-through canister muffler. Click on the below Catalog Page Links for complete applications.
Hamaguchi Full & Slip-On Exhaust Systems Exhaust Systems (below)
Hamaguchi Titanium Full and Slip-On Exhaust systems truly are works of art. You won't find better craftsmanship and tuned performance at any price, anywhere. 4-time FIM Asian Supersport Champions, Hamaguchi pipes feature perfect radius bens that don't disrupt flow, while header pipes feature variable diameter tubing throughout the header length to achieve maximum flow. Available as Full Race Header Exhaust Systems, or as Slip-On Muffler Rear Sections only.