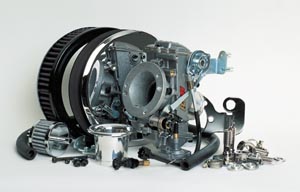 Flatslide CR Downdraft/Sidedraft Carbs

The advanced technology found in Keihin CR Racing Carburetors has been proven in over twelve years of roadracing with countless World Championship and National Championship Superbike victories. Along the way Keihin has established a respected reputation for quality, reliability and performance.
Following in their tradition of high technology and performance, Keihin's latest carburetor design for racing is the FCR designed for downdraft engine design use, featuring a flatslide throttle operating on rollerbearings in a smoothbore venturi.
This is the ulimate racing carburtor for use on downdraft engines as found in many popular sportbikes destined for serious competition. Keihin FCR's are the carburetors of choice on most factory superbikes and endurance teams using inline 4 cylinder engines including Team Suzuki and Team Kawasaki.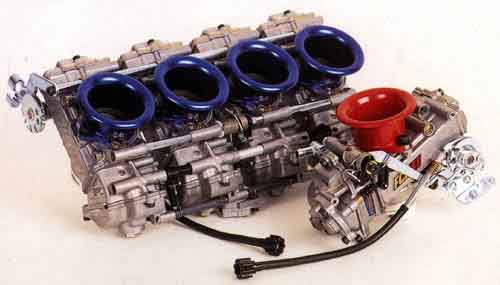 FCR's Available
Keihin FCR-MX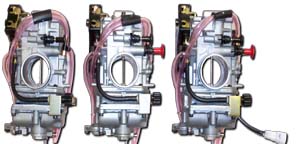 Keihin FCR MX (shown above)
MX:
Diagram & Parts
Keihin has developed an FCR carburetor designed for the specialized needs of the off-road racer. The FCR-MX carburetor has many new features to take motorcross and ATV performance to the next level. These are some of the unique features of the FCR-MX for off-road applications:

1) Over-flow drain joints and tube.
2)Air Cut Valve (ACV)
3)Hot re-start knob
4)Quad vents
5)Throttle cable enclosure
6)High capacity float chamber.
7)Float chamber baffle for rough terrain.






37FCR-MX
Order No.
Description
016-915
-
016-916
with Air Cut Valve Hot Start
016-917
with Air Cut Valve, Hot Start, & TPS
39FCR-MX
Order No.
Description
016-925
-
016-926
with Air Cut Valve Hot Start
016-927
with Air Cut Valve, Hot Start, & TPS
41FCR-MX
Order No.
Description
016-935
-
016-936
with Air Cut Valve Hot Start
016-937
with Air Cut Valve, Hot Start, & TPS
CR Roundslide Special Carbs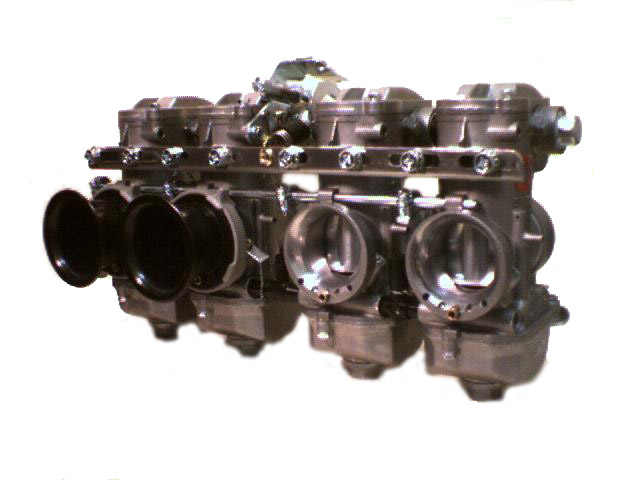 You'll find the power you need to win with Keihin Roundslide Special CR Sidedraft Carburetors. The choice of Team Honda For years on all of their in-line 4-cylinder race bikes in Superbike, World Championship Endurance and Formula One classes, Roundslide CR Carburetors continue to win. Pre-jetted installation: just bolt on and ride for your application. 10% Horsepower Gain: Smooth venturi design produces stronger power than original equipment carburetors using butterfly throttle valves. Improved Throttle Response: Direct throttle linkage to slides provides more precise control than vacuum slide carburetors. Race Fuel Capability: Available for gasoline or alcohol use. Keihin Roundslide Special CR Sidedraft Carburetors are designed for use on sidedraft 4-stroke motorcycle engines. Applications include most in-line 4-cylinder sport bikes including current Suzuki GSXR 750/1100 and Kawasaki GP Ninja models. Keihin CR Carburetors are also available in Dual Carb and Single Carb Systems for use on twin cylinder and single cylinder street and dirt bike applications. Carburetors come complete with mount adapters specific to application, velocity stacks and velocity covers. Intake length is adjustable for better tuning. Sizes available are 26, 29, 31, 33, 35, 37, and 39mm. Specify Model When Ordering.




Keihin PWM Racing Carbs

Keihin has just revealed the next step in the two-stroke racing carburetor evolution - the PWM38. The exclusive features built into the new Keihin PWM38 result in improved top-end power, throttle response, and overall two-stroke engine performance. The PWM38 is the new "Hot Ticket" for 125 to 250cc Road Racing and Shifter Kart applications and 250 Motocross applications.

Diagram & Parts List




Keihin PWK & PWK Air Striker

The Keihin PWK "Air Striker" Motocross racing carburetor is refined to perfection and has set the standard among motocross racing carburetors. With it's new features the PWK will continue to be the first choice in performance carbs for your 125, 250, Enduro or ATV. PWK Air Striker Carbs are available in two popular sizes to cover all your horsepower requirements.

List of PWK Carbs & Diagrams




Keihin PJ

This 34mm Oval slide carburetor is perfect for ATV's and off-road motorcycles. Sudco offers pre-jetted carburetors upon request.





Keihin PE

The Keihin PE, chrome-plated round slide carburetor, enables you to achieve high performance at an economical price. With a selection of 20mm, 36mm and 38mm, you are able to custom match your performance requirement.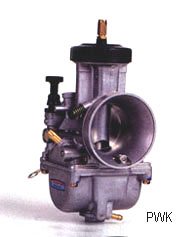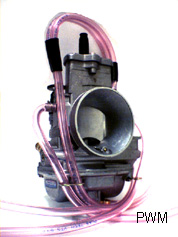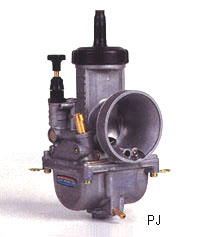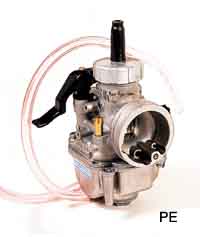 Genuine Keihin Jets

This Keihin jet page will show you which type of jets your carburetor uses.


Go back to top